Clean Sweep cleans up: Sale proceeds are nearly double last year's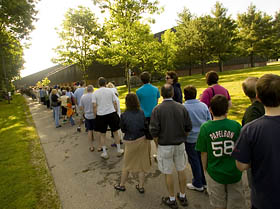 The seventh annual "Clean Sweep," the Bates College "garage sale" of appliances, furnishings, electronics and other goods donated by departing students, raised some $17,648 in proceeds that were divided among 18 local school and nonprofit organizations.
"Clean Sweep was a great success," said organizer Julie Rosenbach, the college's environmental coordinator. "This year we collected a lot more stuff and it was in much better condition than some of last year's items. We also collected early and often, which made a big difference."
Last year's sale raised around $9,500, slightly more than half of this year's total.
The sale drew throngs of eager bargain-hunters to the college's Underhill Arena, on Russell Street. "They started arriving at 5:30 a.m.," Rosenbach said, "and by the time the doors opened, at 8, one line stretched out to Central Avenue and another had to be formed towards the parking lot."
More than 130 volunteers from benefiting organizations helped staff the event — collecting, organizing, cleaning, pricing and selling goods. "The volunteers did a great job," Rosenbach said.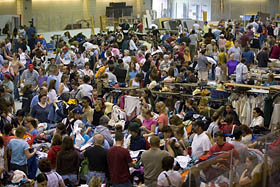 The sale is intended to both raise money for the participating organizations and keep unwanted possessions out of the waste stream. Of the goods that filled dozens of tables in the arena, Rosenbach said, "I estimate that we sold around 97 percent."
Another 3 percent was donated to charitable organizations, and "at the end, we had only about a pickup truck full of items that went into the trash."
Items donated by Bates students and the community included appliances, furniture, sporting goods, housewares and electronics, books, toys, clothes and shoes.
The beneficiaries of the June 16 were: the Androscoggin Humane Society; Caleb Community Garden; Common Ties; Hope Haven Gospel Mission; Justice, Ecology and Democracy Collective; Lewiston High School track and field program; Life Center; Maine Fair Trade Campaign; Maine People's Alliance; Nana's Dream Museum of Miniatures; New Beginnings; New England Connection for PKU and Allied Disorders; Our Lady of the Rosary; Outright Lewiston/Auburn; Pettingill Elementary School PTO; Share Center; THRIVE Initiative; and the Tri-County Mental Health Services Social Learning Center.
Bates is one of a number of colleges and universities nationwide that benefit both local nonprofit organizations and the environment by selling useful possessions donated by students as they head out at the end of the academic year.
View Comments