Bates presents East Coast premiere of Elvgren's 'Five Cups of Coffee'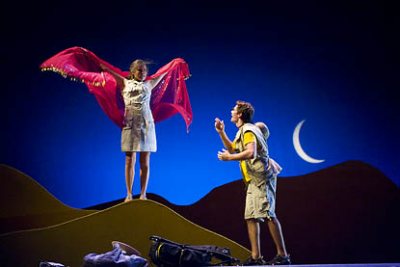 A dark romantic comedy about the nature of time and the human condition, Gillette Elvgren's play Five Cups of Coffee will be performed at Bates College at 7:30 p.m. Thursday through Saturday, Nov. 1-3, and 2 p.m. Saturday and Sunday, Nov. 3 and 4.
Performances take place in Schaeffer Theatre, 305 College St. Admission is $6 for the general public and $3 for seniors, Bates faculty and staff, and non-Bates students. For more information, please call 207-786-6161.
Professor of Theater Paul Kuritz directs Five Cups of Coffee for the Bates theater department's annual fall production. The college will enter the production in the Kennedy Center's American College Theater Festival, Bates' first entry since 1988.
"This is a love story involving a boy and a girl of the age of Bates students," Kuritz says. "The characters wrestle with a dilemma common to many college students — whether to commit themselves or not, given the rotten state of the world and the troubled history of their own parents' marriages."
The protagonist is Hal, a man plagued by the metaphysical implications of time: time past, time lost, future time, no time. He flees his wedding and his bride-to-be, Rita, and takes refuge in Milo's Gourmet Coffee Shop, where he drinks his very first cup of coffee.
As the story unfolds, Hal and Rita get back together, but he continues his search for the sources and implications of human identity. "The course of their courtship takes them from Milo's to the battlefields of Iraq, to a hospital emergency room, to the Gates of Paradise," Kuritz explains.
"Various crises within Hal's family drive him to seek four more cups of coffee over the coming years, and each cup marks a step in his development."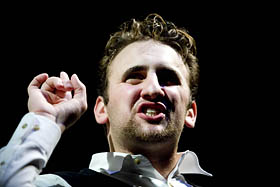 So Milo and his coffee shop anchor the action. Elvgren's experience watching an adult colleague drink coffee for the first time provided the hook for the piece, the playwright explains. But the deeper themes reflect the author's own fascination with the concept of time.
"One of the enchanting things about consciousness is how it allows us poor human beings to live in different stages of time at any single moment," Elvgren says. "We have been blessed, and perhaps cursed, with the angst of memory and the fear and delight of the future, all jumbled together in our short span of time on this Earth."
The play was premiered by the professional Lamb's Players Theatre in Coronado, Calif., in 2006.
The playwright, who will attend the play's opening at Bates, is a professor in theater arts at Regent University, Virginia Beach, Va. Previously, as a professor at the University of Pittsburgh, he headed the M.F.A. directing program and served as staff director for the Three Rivers Shakespeare Festival.
He is co-founder and resident playwright for Saltworks Theatre Company in Pittsburgh, as well as resident writer for Children's Ministries, Scripture Union, Philadelphia.
Elvgren has been writing for more than 30 years. His plays have been produced by professional theater companies throughout the United States and Canada. There have been approximately 8,000 performances of Elvgren scripts.
View Comments