Learned Ladies continues through weekend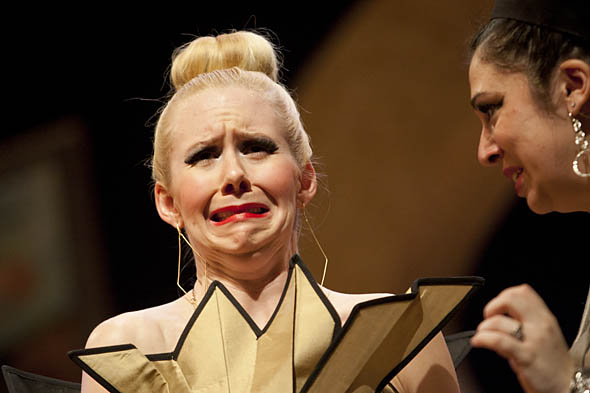 The Bates theater department production of Molière's 1672 satire The Learned Ladies continues through March 20, with performances at 7:30 p.m. Friday and Saturday, March 18-19, and 2 p.m. Sunday, March 20. The performances take place in Schaeffer Theatre, at 305 College St.
Tickets are $6 for the general public and $3 for seniors and students, and are available at www.batestickets.com. For more information, please call 207-786-6161.
Martin Andrucki, Dana Professor of Theater, directs the production, which honors French culture and marks the 50th anniversary of Bates' mainstage theater and dance venue, Schaeffer Theatre. The piece, says Andrucki, is "a wonderful Molière play. It's got all the Molière hallmarks — the wit, the elegance, both broad and refined humor."
With intellectual pretension its theme, the play tells the story of two young lovers, Henriette and Clitandre, whose marriage is blocked by Henriette's mother, aunt and sister. These would-be learned ladies, who embrace a bogus kind of "intellectuality," have been captivated by Trissotin, a pseudo-scholar and mediocre poet. The ladies want Henriette to marry this fraud instead of the handsome and commonsensical Clitandre.
"It's a good production for students because it's about intellectual vanity, intellectual folly, true and false values," says Andrucki, Dana Professor of Theater at Bates. "These are all issues that students wrestle with as they figure out what it means to be educated. It's about finding intellectual balance."
Andrucki has reset the play into the 1920s, an era with its own brand of intellectual absurdity. But, he adds, "the play is surprisingly modern in tone at times. One project that the ladies want to do is to create a body of forbidden words that may not be uttered because people may find them offensive."
In the cast are three students whose performances form part of their senior thesis, a distinctive capstone experience in the Bates education. Playing Henriette is Alina Volobuyeva, a senior from Kharkiv, Ukraine. Schuyler Rooth of New Orleans portrays Armande, the sister who is bent on keeping Henriette and Clitandre apart. Both are doing yearlong honors theses in theater.
For her one-semester senior thesis, Sarah Dice-Goldberg of Matawan, N.J. is designing costumes for the production, under the direction of Christine McDowell, assistant professor of theater.
Andrucki chose Molière to honor the 50th birthday of Schaeffer Theatre, home to most theater and dance productions at the college. The first piece presented in the 324-seat theater was also by that playwright: a December 1960 presentation of Tartuffe by the Robinson Players, the student theater company at Bates.
Built as the Little Theatre in 1960, the space was renamed in 1972 to honor Lavinia Schaeffer. Retiring that year after 38 years on the Bates faculty, Schaeffer was a moving force behind both the construction of the state-of-the-art venue and, more broadly, of the Bates theater program as it stands today.
She was an advocate at Bates of the "Little Theater" movement — "a movement to create smaller theaters that would be suitable environments for the serious and realistic plays that came along after Ibsen," Andrucki explains. (Hence Schaeffer Theatre's original name.)
"These were intimate spaces for probing psychological dramas," he says, in contrast to the gaudier, more spectacular entertainments dominating commercial theater for much of the 20th century. "Lavinia was very much attuned to that spirit. That was the cutting edge of her generation.
"She wanted to be part of it and make Bates part of it."
View Comments