Traditional Middle Eastern dance troupe to perform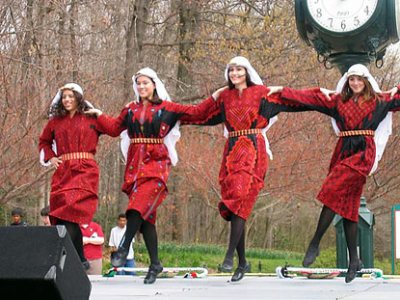 The DC-Dabkeh Troupe, which performs traditional Middle Eastern folk dances, performs at 7 p.m. Saturday, March 10, in Bates College's Olin Arts Center Concert Hall, 75 Russell St.
The public is invited to attend at no cost. The troupe was invited by the Bates organization Students for Peace and Justice in Palestine, and sponsors of the event include the Olin Arts Center, the Multicultural Center, the music department and Mushahada, an organization of Muslim students and students interested in the Islam faith. For more information, please call 207-786-6135.
Betsy Nelson, a sophomore from Newton, Mass., will belly-dance during intermission.
Traditionally performed by men and women, dabkeh is a traditional dance in much of the Middle East. It's the national dance of Jordan, Lebanon, Syria and Palestine, and is found in Iraq under the name of "chobi." The DC-Dabkeh Troupe is a new ensemble composed of students and professionals dedicated to preserving this tradition.
The troupe aims to raise a positive awareness of the deep-rooted Palestinian culture in a climate that it considers to be filled with negative images and perceptions, and to keep Palestinian culture and heritage alive through another generation.
"Dabkeh in Palestine is popular among all ages, but especially youngsters," says Selina Jaber, a Bates senior from Palestine. "It's a way to escape the reality of the Israeli occupation and the conservativism of the society."
Jaber also points out that dabkeh is a dance of solidarity and is considered a way to express nationalism. Students for Peace and Justice in Palestine invited DC-Debkeh to Bates to help represent the Palestinian narrative to the college community.
"Dabkeh is a dance of community, often performed at weddings, parties and other joyous occasions," says Jaber. "In Arabic, 'dabkeh' means 'stomping of the feet,' and stomping, as well as jumping and kicking, characterize the dance."
The leader of the dance, or "raas," improvises the type of dabkeh being danced, and he or she twirls a handkerchief or string of beads known as a mashba while the rest of the dancers keep rhythm. Dancers also use their voices to show energy and punctuate the rhythm.
Dabkeh is typically accompanied by the "mijwiz," a double pipe; "tableh," drums; and "mizmar," a single-reed wind instrument.
View Comments