UPDATE: German string quartet's Sunday performance confirmed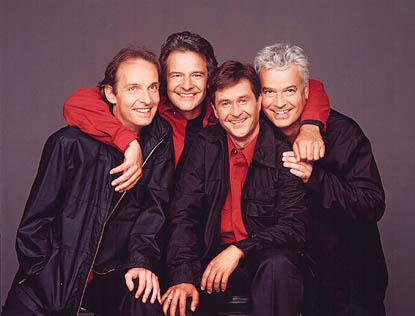 The Auyrn Quartet performance, postponed from Saturday, Jan. 30, will take place today, Sunday, Jan. 31, at 3 p.m. in the Olin Arts Center Concert Hall at Bates College, 75 Russell St.
Tickets for Saturday's postponed show will be honored today, Jan. 31.
Tickets are also available at www.batestickets.com, and 100 free tickets for Bates students will be available with I.D. today.
The concert is presented by the Bates Concerts Committee.
Recently celebrating 28 years of continuous membership, this quartet based in Cologne, Germany, reflects a "European tradition that blends elegance of sound with seamless phrasing and clarity of detail," in the words of a writer for Cleveland's Plain Dealer.
Having presented the complete cycle of Beethoven string quartets in Germany, Italy and Washington, D.C., the quartet continues a three-year Beethoven cycle for Bates, offering two concerts per season.
Describing the quartet's recording of the complete Beethoven quartets, "Auryn's Beethoven," an eight-CD set released by Tacet in 2005, a reviewer for Gramophone wrote: "There is no shortage of great and famous Beethoven cycles, but there are no performances such as these. For me, this is now the set to beat."
The ensemble has developed into one of the most important quartets of its generation, touring extensively and performing regularly in the major concert halls of Europe, The Middle East, The Americas, Australia and Asia, including London's Wigmore Hall, Amsterdam's Concertgebouw, the Wiener Konzerthaus in Austria, and New York's Frick Collection and Weill Recital Hall. Auryn's Beethoven programs provide selections from each of the composer's periods within each concert.
The Auryn Quartet series coincides with a season-long effort by renowned pianist and Bates artist in residence Frank Glazer, who resumed his performances of the complete Beethoven sonata cycle at Bates on Jan. 17, with subsequent performances on Feb. 7, Mar. 19, and Apr. 9.
View Comments