Lecture to open economist's tenure as Stangle Professor at Bates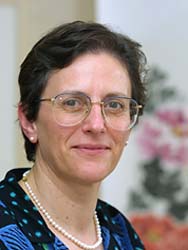 Professor Margaret Maurer-Fazio inaugurates her tenure in the newly established Betty Doran Stangle Professorship in Applied Economics at Bates with a lecture at 4:30 p.m Friday, Feb. 1, 2008, in Chase Hall Lounge, 56 Campus Ave.
Maurer-Fazio's talk is titled China: A Journey of Teaching and Scholarship. A reception will follow in the Chase Hall Gallery. The event is open to the public at no charge. For more information, please call 207-786-6237.
The talk will cover what Maurer-Fazio describes as the "exciting synergies between teaching in China, taking students to China, and my research agenda." A member of the Bates economics faculty since 1994, Maurer-Fazio studies the dramatic impact of the liberalization of China's economy on that nation's labor markets.
She has investigated the roles of education and of rural-to-urban migration in wage determination, the extent of gender differentials in wage structures and regional differences in labor markets. Her most recent research looks into the treatment of Muslim and other ethnic minorities in China's labor markets and the changing work course of urban Chinese women.
"To her work, she brings novel and complex empirical techniques that result in new and important insights into one of our world's most changing and powerful markets," says Jill Reich, dean of the faculty at Bates. "Maggie is deeply devoted to her students, drawing them into the intellectual excitement of her expertise in ways that are transformative and creative."
Maurer-Fazio's teaching includes courses on economic development, the Chinese economy, the Japanese economy and the nexus between environmental protection and economic development in China. During her time at Bates, Maurer-Fazio has taken Bates students to China and Taiwan for several Short Term courses and for the Bates Semester program in Nanjing. That program, which Maurer-Fazio has co-directed with other Bates faculty four times, offers intensive language study and courses in Chinese culture as well as economics.
Maurer-Fazio not only organizes and leads international conferences in her field of expertise, but also helps Maine high school teachers learn about China. She was integral to the development of the college's Program in Asian Studies and has chaired that program. She also serves as associate dean of faculty.
With Sarah Cook, Maurer-Fazio is co-editor of the volume The Workers' State Meets the Market: Labour in China's Transition (Frank Cass and Company Limited, 1999), and she has published many articles in economics and China journals.
She holds a doctorate degree in economics and an advanced certificate in Asian studies from the University of Pittsburgh. She studied Chinese at the Inter-university Program for Chinese Language in Taipei. She received both her master's and bachelor's degrees in economics at the University of Western Ontario.
The Betty Doran Stangle Chair is made possible by a generous gift from Trustee Bruce Stangle '70 and his wife, Emily Siegel Stangle '72, of Belmont, Mass. The chair honors Bruce Stangle's mother, a daughter of Irish immigrants who became a successful businesswoman, community volunteer and mother of five. The Stangles' gift recognizes a member of the Department of Economics who exemplifies the breadth of intellect of Bates teacher-scholars and who has an impact on the world.
Bruce Stangle graduated from Bates with a degree in English and earned both a master's degree in management and a doctorate degree in applied economics from the Sloan School of Management at MIT. In 1981 he co-founded Analysis Group Inc., an economic consulting firm that now employs 350 consultants in nine offices in North America.
He serves as chairman of Analysis Group and is a member of the visiting committee for the MIT economics department and the board of directors of Wellington Trust Company, a private money management firm. Emily Stangle graduated from Bates in 1972 with a B.A. in sociology.
View Comments