Maine's judicial branch names Bates outstanding volunteer of the year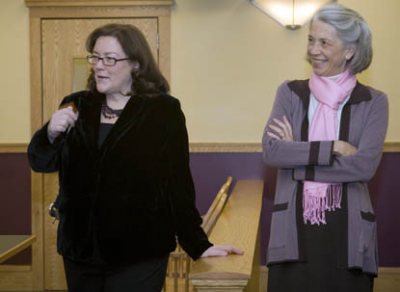 Maine's judicial branch of government has recognized Bates College for volunteer work performed in the state's courts.
At a recent Lewiston District Court ceremony, Maine Chief Justice Leigh Saufley presented the college with the Outstanding Volunteer of the Year Award, honoring work done by the Bates College Service-Learning Program and the departments of psychology and sociology. Bates President Elaine Tuttle Hansen, accompanied by Peggy Rotundo, director of strategic and policy initiatives for the college's Harward Center for Community Partnerships, accepted the recognition.
Since summer 2003, Bates students have volunteered throughout the academic year in the Lewiston District Court. Bates students, said Justice Saufley, have worked in the courtroom making electronic recordings, assisting in legal research and participating in case management. All of these duties have helped judges, magistrates and clerks of the court system, Saufley said.
District Court Judge John Beliveau has led the Lewiston District Court's efforts to find meaningful work experiences for the students. "The program has been an excellent example of the cooperative relationships that can be forged for the mutual benefit of the students and the court system," Beliveau said.
"Bates students have benefited significantly from this working relationship," President Hansen said. She cited the credit hours earned for their work at the court and their enjoyment of field experiences that can be directly applied to their course work. Some students, she said, have used the court experience as a basis for their senior theses on topics such as children in foster care, the child protective system and the relationship between parental substance abuse and harm to children.
During her presentation to Bates, Saufley also recognized Rotundo, a Maine state senator, for her efforts in developing an appreciation for the important role of the courts in the community. Rotundo has fostered the bond between the Judicial Branch and the Legislature while supporting the relationship between Bates and the Lewiston District Court.
The Outstanding Volunteer Award is presented each year to that person or program that, in a volunteer capacity, assists the Judicial Branch in fulfilling its mission of administering justice by providing an accessible, efficient and impartial system of dispute resolution.
View Comments