Bates receives national award for service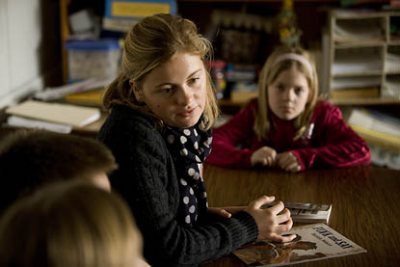 For the second year in a row, the Corporation for National and Community Service named Bates College to the President's Higher Education Community Service Honor Roll with Distinction for exemplary service efforts and service to disadvantaged youth.
"I am delighted that, for the second consecutive year, Bates has been recognized nationally for our accomplishments in community service and community-based learning," said David Scobey, director of the Harward Center for Community Partnerships and Donald W. and Ann M. Harward Professor of Community Partnerships.
"Being selected as a distinguished college on the President's Honor Roll is a tribute to the hundreds of Bates students, faculty and staff who place community service at the heart of our educational endeavor. The Harward Center applauds their commitment and celebrates this honor," Scobey said.
Launched in 2006, the Community Service Honor Roll is the highest federal recognition a school can receive for its commitment to service-learning and civic engagement. Honorees for the award were chosen based on a series of factors including scope and innovativeness of service projects, percentage of student participation in service activities, incentives for service and the extent to which the school offers academic service-learning courses.
Some of the collaborative efforts that best exemplify the work that Bates is doing include partnerships with the Lewiston Public School System and Lewiston Housing Authority, and "collaboratories" that include the Downtown Educational Collaborative and Y.A.D.A. (Youth + Adults + Dialogue = Action).
The Harward Center maintains partnerships, many spanning a decade or more, with more than 120 community organizations. This community work was nurtured early on through the Bates Center for Service-Learning, established in 1995 as one of the first of its kind. The commitment to community partnerships was extended through the 2005 formation of the Harward Center, which now houses the Service-Learning Program.
"College students like those at Bates College are tackling the toughest problems in America, demonstrating their compassion, commitment and creativity by serving as mentors, tutors, health workers and even engineers," said David Eisner, chief executive officer of the corporation. "They represent a renewed spirit of civic engagement fostered by outstanding leadership on caring campuses."
Overall, the Community Service Honor Roll awarded six schools with Presidential Awards. In addition, four schools were honored with Special Achievement Awards, 127 as Honor Roll with Distinction members and 391 schools as Honor Roll members.  In total, 528 schools were recognized.  See the full list at www.nationalservice.gov/honorroll.
More than a third of colleges and universities in the United States offer service-learning courses as part of their curriculum. Chosen by the President's Higher Education Community Service Honor Roll with Distinction in 2006 and 2007 and honored by the Carnegie Foundation in 2007 for community engagement, Bates is featured in "The Guide to Service-Learning College and Universities." Published in 2007 by Beyond the Books, the guide profiles some of the nation's most engaged institutions of higher learning.
Bates is one of 62 schools, out of 76 recognized, to receive the Carnegie Foundation's classification for community engagement under both "Curricular Engagement" and "Outreach and Partnerships." Bates is one of only three New England liberal arts colleges to receive this classification. Unlike the foundation's other classifications that rely on national data, this is an "elective" classification — institutions chose to participate by submitting required documentation.
"We're one of three liberal arts colleges in New England to hold this institutional classification," says Anna Bartel, associate director for the Harward Center, "and it indicates a level of college-wide commitment to community engagement that is foundational to our identity."
View Comments