Law center co-founder: Journey toward justice is far from finished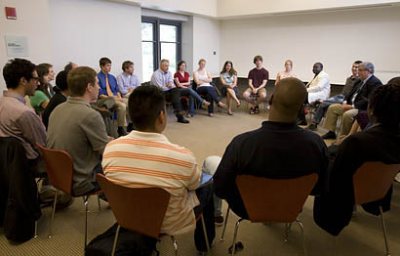 "Selfishness and greed have toppled many great empires in the past," Southern Poverty Law Center co-founder Morris Dees told a Bates audience on May 8.
Unless fairness for all people prevails, he said, frustration among the disadvantaged here could rise to a tragic degree. "One day, there may not be one skyscraper left in this nation."
Dees wove stories from the Bible, from the life of Martin Luther King Jr. and from his own biography into a compelling, sometimes emotional address lasting nearly an hour.
Some 300 members of the campus community and friends gathered in the College Chapel on a summery afternoon to hear Dees. He was the keynote speaker for the second annual symposium, this year titled Unswerving Values, Changing Times, convened by President Elaine Tuttle Hansen to address the vital work of advancing diversity at Bates.
Dees, raised on an Alabama cotton farm, is a lawyer who co-founded the Southern Poverty Law Center in 1971. Dedicated to seeking legal redress against hate groups, and in more recent years to providing programming that
---
---
teaches tolerance to the young, the SPLC is known for landmark legal victories over such white-supremacist organizations as the Ku Klux Klan and Aryan Nation.
Dees' talk at Bates resembled the best kind of memoir, as he used tragedies and triumphs from his own life to shape a larger narrative about America's history of racial injustice, his own journey to the awareness of inequity and the continuing need for love and justice in society.
Titled "With Justice for All in Our Multicultural Nation," the address began with Dees describing one Vera Belle Johnson, his teacher in a three-room
schoolhouse in Shorter, Ala. Johnson, he explained, "wanted us to grow up to be good citizens . . . fair and honest."
Christian values and abstention from alcohol and tobacco were high on Mrs. Johnson's list, said Dees, recalling the day he challenged her with the seeming contradiction in the story of Jesus turning water into wine.
"Yes, Morris," she retorted, "but we would have thought more highly of him if he hadn't done that."
Equally memorable but more influential were Johnson's efforts to convince Dees and her other pupils of the real value of the words in the Pledge of Allegiance: "one nation, with liberty and justice for all."
It took the work of civil rights leader King, Dees continued, to "ensure that America lived up to its promises of equality written in the Constitution."
One day King told a crowd in a Memphis church about seeing the distant Promised Land from a mountaintop. He said, "I may not get there with you, but it's going to be a land of fairness and justice and liberty for all." King was assassinated the next day.
Similarly, Dees said, Moses brought his people out of Egypt and to the river shore opposite the Promised Land, but they didn't cross. Instead, the Jews wandered in the wilderness for another 40 years before they crossed the River Jordan.
"It is ironic today," Dees said, "that we are standing on the river and, so to speak, looking across, and it's been 40 years since the Reverend Dr. Martin Luther King left us."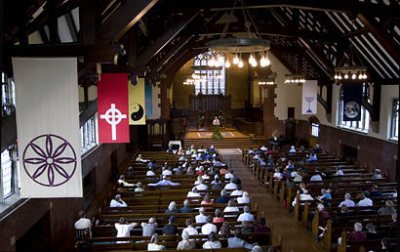 "Are we going to turn and go back? Are we going to wander around in this wilderness, where we've made some progress but not a lot of progress, in human rights? Or are we going to step out and attempt to make changes?"
A highlight of Dees' talk was his 1981 defense of Vietnamese immigrants who had fled their country after the communist victory and had overcome considerable hardship to establish themselves as shrimpers in Texas. The Ku Klux Klan then employed the usual tactics to force them out of the industry.
Dees and the shrimpers were at the threshold of a legal victory, in the form of a federal injunction against the white supremacists, when a group of
Vietnamese businesspeople asked that the lawsuit be dropped. Why? Fear of retaliation against their own businesses.
"Please, please don't drop your lawsuit," Dees implored the shrimpers, using King's example to illustrate the ultimate power of the U.S. legal system. But, he told the Bates audience, "I could see fear in their faces. It wasn't me who had to live in that community."
In the end, the shrimpers hung tough and the injunction went through, Dees said. On the day the shrimping season opened, as an early fog lifted, he was among the crowd on the waterfront in Kemah, Texas, as the shrimp fleet including the Vietnamese boats received a priest's blessing and headed out to sea. "I not only felt proud to be their lawyer, I felt proud to be an American," he said.
Dees' dominant theme came to the fore as he interpreted the Old Testament story of the prophet Amos. A farmer visiting the city of Bethel, Amos was appalled by the gap he saw between the rich establishment and the disenfranchised poor.
In Dees' version, Amos told the powers-that-be that "you've got a good thing going here. But you won't get to keep what you have and pass it down to the future generations unless you're fair to all the people. Because if you're not fair to all the people, they're going to take what you have away from you."
"Amos spoke to the people of that ancient city in the words that Dr. King chose to speak to us," Dees told the Bates audience, "when he stood on the Mall in Washington, D.C., and begged this nation to live up to its promises of equality."
"Amos said to those people, 'Don't be satisfied, folks, until justice rolls down like the waters, and righteousness like a mighty stream.' "
Dees' theme was anticipated in opening remarks by President Hansen. She reminded the gathering of the substance of last year's symposium, which explored the changing demographics of the student population.
"This afternoon we come together again to that perpetual task of changing and preparing ourselves to do the right thing," she said, "which requires not just reacting to what we think may be coming, but proactively building an educational environment to house and nurture the capacities needed to sustain a thriving multicultural nation and a peaceful global society."
Offering a brief introduction to Dees' life and accomplishments, Trustee Dana Peterson Moore '79 described Dees as "an eyewitness and a warrior in the civil rights movement."
She told Dees, "We're very hungry to learn from you how justice for all can be secured in these changing times."
View Comments