Art department's Feintuch receives Guggenheim Fellowship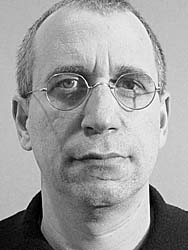 Robert Feintuch, a member of the Bates College studio art faculty who is celebrated for his droll, evocative paintings, has received a 2008 Guggenheim Fellowship.
The New York City-based John Simon Guggenheim Memorial Foundation this year awarded 190 fellowships to artists, scientists and scholars. According to the foundation's Web site, Guggenheim Fellows are appointed on the basis of stellar achievement and exceptional promise for continued accomplishment.
Individual grants in 2008 averaged $43,000, with awards totaling over $8 million.A resident of New York City, Feintuch will use the Guggenheim to support the creation of a body of work for his next exhibition at New York's CRG Gallery in 2009.
"As both a vital, expressive painter and someone who knows intimately the demands of a career in creative work, Robert is a valuable teacher and mentor to our students and faculty," says Jill Reich, dean of the faculty at Bates.
"We are delighted that he has this support that provides him time to reflect and hone his creative edge."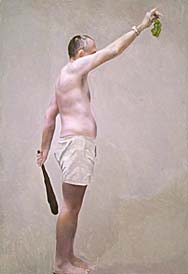 A senior lecturer in the art and visual culture department at Bates, Feintuch is known for "an extraordinary kind of realist painting that is both conceptual and figurative," as Artnet.com reviewer David Ebony described it. Feintuch hands his faceless, undressed figures ordinary or comic objects that become mysterious and suggestive in the context of the pictures.
He explains that unbroken stretches of concentrated painting enable him to make his best work. "When I'm working well and I've had enough time in the studio, I feel immersed in the stream of images I find, and one begins to lead to another," he says.
Feintuch has an M.F.A. from Yale University and a B.F.A. from Cooper Union. His work has been reviewed in Art in America, Art Forum, ARTnews and Flash Art.
He has shown work in galleries including CRG, the Howard Yezerski Gallery in Boston, and such overseas venues as the Studio La Citta in Verona, Italy, and Galerie Alfred Kren in Cologne, Germany. Feintuch has also participated in group exhibitions including "Figuration" at the Museum for Modern and Contemporary Art in Bolzano, Italy, and "I Love You More Than My Own Death" at the Venice Biennale.
Since 1925, the Guggenheim Foundation has awarded more than $265 million in fellowships to more than 16,000 individuals — among them such figures as Ansel Adams, W. H. Auden, Aaron Copland, Martha Graham, Langston Hughes, Henry Kissinger, Vladimir Nabokov, Linus Pauling, Philip Roth, Wendy Wasserstein, Derek Walcott, James Watson and Eudora Welty.
Previous Guggenheim recipients with a Bates connection include William Pope.L, a senior lecturer in the theater department and a nationally known conceptual artist, and William Stringfellow, a member of the Class of 1949 known as a peace activist, human rights lawyer and theologian.
View Comments