Film Me In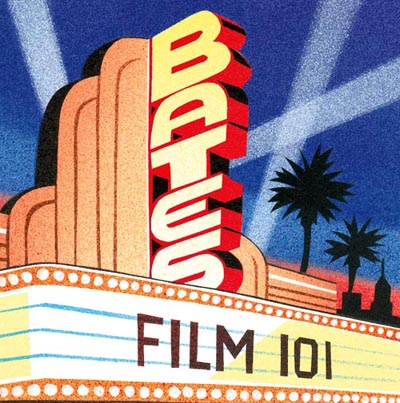 For Sulo Dissanayake '09, the pitfalls of filmmaking came into focus when, for the course "Acting and Directing for the Camera," she directed a scene at the Blue Goose — and then pretty much had to scrap it.
Paul Kuritz, a theater professor who is advancing film production in Bates' curriculum, assigned the 12 students in the course to adapt and shoot a scene from a feature film. Dissanayake chose a pivotal encounter from Neil LaBute's 2003 movie The Shape of Things. This being a wintertime course, Dissanayake brought LaBute's outdoor scene inside, to a barroom.
"I thought the Goose would be ideal," she says, and the management was agreeable. However, as Dissanayake explains, "I didn't expect half the town to be at the bar on a Saturday morning. So our audio got completely screwed," as bar hubbub obscured the actors' dialogue.
She ended up shooting the scene on a set on campus.
Kuritz's students in Theater 371 chose source films worthy of any Netflix queue, from the classic (Rebel Without a Cause) to the hip and funny (This Is Spinal Tap) to the teeth-clenching (Misery). As directors, they had to do it all, from logistics to running the digital video camera to guiding the actors, who were also taking the course.
Kuritz has taught Theater 371 twice. He prepared himself by taking film production courses at the Rockport, Maine, school now called the Maine Media Workshops, and made his own short in 2006. (Premiered this year, A New Life will be shown at this summer's Bayou City Inspirational Film Festival in Texas.)
Film studies is well-established in Bates' curriculum, and the late rhetoric professor Robert Branham taught documentary filmmaking in the 1980s and '90s. Now, after a gap of a decade and thanks largely to Kuritz, film production is again a fixture. Since January, theater majors who meet a variety of requirements, including Theater 371 and programs off campus, have been able to work toward a senior thesis in narrative film production.
The time is ripe, Kuritz says. "More people watch films and make films than watch or make theater."
Continuity was a key lesson, explains Lana Smithner '10, who aimed high for her project and chose a scene from the Coen Brothers' Fargo. For instance, as she moved the camera to capture different angles, she had to shift the set and the actors, too, so they would appear to stay in the same places.
Similarly, actors must be able to play a scene exactly the same way through different shots so that they all fit together in the editing room. "Everyone thinks that acting for the camera, you can be more natural and real," Smithner says.
"But the big thing that we learned right off was, it's actually the opposite, because the way shots are composed is very fake."
Illustration by Marty Braun
View Comments