Midsummer Lakeside Concerts wrap up with Blue Hill Brass Quintet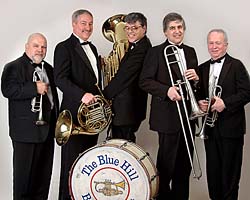 The 2008 Bates College Midsummer Lakeside Concert Series concludes with a performance by the Blue Hill Brass Quintet at 6 p.m. Thursday, Aug. 7, in the Florence Keigwin Amphitheater at the college's Lake Andrews.
Sponsored by the Harward Center for Community Partnerships at Bates and the Bingham Betterment Fund, the concert is open to the public at no cost. Bring a picnic supper and blankets or lawn chairs.
The rain site is the Olin Arts Center Concert Hall, 75 Russell St., adjacent to the amphitheater. For more information, call 207-786-6400.
The Blue Hill Brass Quintet has been delighting audiences for more than 20 years. The group has performed throughout New England at such events as the Eastern States Exposition, the Maine Festival, harvest fairs all over Maine and on Maine Public Radio.
The players are trumpeters Curt Brossmer and Allen Graffam, hornist Scott Burditt, trombonist Steve Norris and tubist Paul Greenstone. With Brossmer and Burditt serving as principals on their instruments with the Bangor Symphony Orchestra, the quintet's collective resume also features work with the Portland Symphony Orchestra, the Al Corey Orchestra and the Maine Chamber Ensemble.
With a repertoire covering five centuries, the quintet is known both for musical excellence and family-pleasing entertainment.
View Comments