Performances at Bates resume with dancer-vocalist Janis Brenner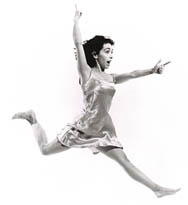 Dance and song come together in two upcoming performances at Bates' Olin Arts Center Concert Hall.
The remarkable dancer-choreographer-singer Janis Brenner offers a solo performance in Olin at 8 p.m. Wednesday, Sept. 17. Brenner explores the passion, humor, depth and emotional power of our relationships to others, to ourselves and to the world around us. The New York Times described Brenner's dances as filled with "free-wheeling motion and rooted emotional intensity."
Her Bates performance includes a vocal suite by Meredith Monk and "Solo For Janis" by Richard Siegal. This performance is open to the public at no cost, but tickets are required.
The following week, the 2008-09 Bates College Concert Series continues with a performance by the tango troupe called Pablo Aslan's Avantango at 8 p.m. Friday, Sept. 26, in the Olin Arts Center Concert Hall, 75 Russell St.
New York-based Avantango, led by bassist Aslan, comprises six musicians and four dancers, plus a guest singer, all Argentine natives. Mixing the legendary music of Astor Piazzolla with contemporary themes and rhythms, the ensemble reclaims the tango as a living tradition, while incorporating jazz improvisation and turning historic cliches upside down.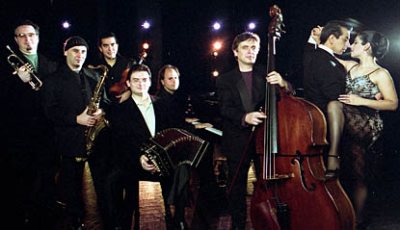 A New York Daily News critic wrote that Avantango "uncovered a colorful, bristling range of musical possibilities . . . harnessing jazz improvisation to take off in some suggestive, fascinating musical directions." Avantango members have toured with such artists as Shakira, Yo Yo Ma and Julio Iglesias, and appeared in the National Geographic television special "Tango!" narrated by Robert Duvall.
Bates Concert Series performances take place at 8 p.m. in the Olin Arts Center Concert Hall. Tickets are $10 general admission and $4 for students and seniors, and are available at www.batestickets.com. For reservations and more information, please call 207-786-6135, visit the concert series Web site or olinarts@bates.edu.
Featuring a lively blend of jazz, Latin and classical music, the college's flagship series of musical events resumes during the winter with the renowned guitarists known as the Assad Brothers (Jan. 31) and finally, Germany's Auryn Quartet in a two-evening stand that begins the group's multi-year presentation of the complete Beethoven string quartets at Bates (Feb. 5-6).