Global Lens 2008 film series resumes with Bet Collector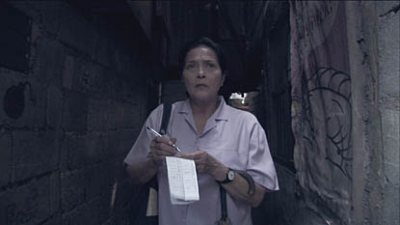 The Global Lens 2008 film series, a touring program of narrative feature films from Latin America, the Middle East, Africa, Europe and Asia, resumes at Bates College with the 2006 Filipino drama The Bet Collector at 7 p.m. Thursday, Oct. 23, Room 104 of the Olin Arts Center, 75 Russell St.
The Bates College Museum of Art presents the series in cooperation with the college's Multicultural Center. The public is welcome to all of the films at no charge. For more information, please call 207-786-6158.
The series is assembled and distributed by the Global Film Initiative, a U.S.–based nonprofit organization promoting independent filmmaking in Africa, Asia, Latin America and the Middle East. Founded in 2002 with the mission of promoting cross-cultural understanding through cinema, each year the initiative not only presents the film series but awards grants to deserving filmmakers from around the world. For more information, please visit the initiative's Web site.
In The Bet Collector, Amy, a family matriarch, makes ends meet by running a small convenience store out of her home. But in a struggling economy customers are scarce, and without the help of her husband or pregnant daughter, she is forced to supplement the family income by collecting bets for an illegal numbers game.
In this starkly realistic narrative, director Jeffrey Jeturian presents a captivating portrait of a once-proud woman, haunted by memories of a dead son and hounded by the police, and her fragile and lonely life as a kubrador (bet collector) on the streets of Manila.
The Global Lens series, now in its fifth year, premiered at the Museum of Modern Art in New York in January and is traveling around the country to more than 40 locations. Read more about the films and view the series trailer and individual film trailers.
All of the Bates screenings begin at 7 p.m. Here's the rest of the series:
Bunny Chow (South Africa, 2006), Monday, Oct. 27, Olin 104.
The Custodian (Argentina, 2006), Thursday, Oct. 30, Olin 105.
The Fish Fall in Love (Iran, 2006), Wednesday, Nov. 5, Olin 104.
Kept & Dreamless (Argentina, 2005), Thursday, Nov. 6, Olin 105.
The Kite (Lebanon, 2004), Wednesday, Nov. 12, Olin 104.
Let the Wind Blow (India, 2004), Wednesday, Nov. 19, Olin 104.
Luxury Car (China, 2006), Wednesday, Dec. 3, Olin 105.
Opera Jawa (Indonesia, 2006), Thursday, Dec. 4, Olin 105.
View Comments