Bates student to direct Sam Shepard's Lie of the Mind
Bates College senior Sulochana Dissanayake of Pita Kotte, Sri Lanka, directs the Bates theater department production of A Lie of the Mind, Sam Shepard's realistic portrayal of two American families.
Performances take place at 7:30 p.m. Thursday, Friday and Saturday, Oct. 30, 31 and Nov. 1; and at 2 p.m. Saturday and Sunday, Nov. 1 and 2, in Schaeffer Theatre, 305 College St. Admission is $6 general admission and $3 for senior citizens and non-Bates students. For more information, please visit www.batestickets.com or call 207-786-6161.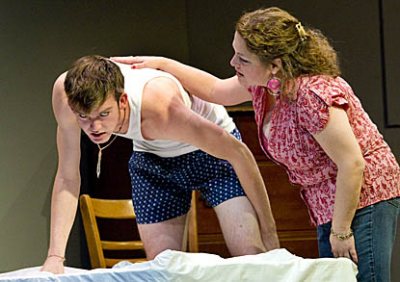 Winner of the 1986 New York Drama Critics Award for Best Play, A Lie of the Mind depicts two families joined by marriage and torn apart by a brutal act of domestic violence. It's the darkly humorous story of archetypal American characters trying to piece together their lives while dealing with rage, vengeance, disillusionment and abandonment.
See a short video about Dissanayake's mainstage production below.
"The play is universal in its dysfunctionality of families," says Dissanayake. "We all know people like that. It's just how some families behave. The two families seem to avoid the reality of what's happened."
Where Bates' mainstage productions are usually directed by a member of the theater faculty, Dissanayake directs A Lie of the Mind as a part of her senior directing thesis.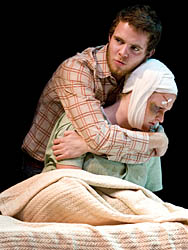 "This is very rare," says Katalin Vecsey, lecturer in the theater department and vocal director for theater productions. "I've been here for 14 years and this is the first time that a student has been invited by the theater department to direct a mainstage production." Dissanayake has already acted in a show and directed several others, and directed a short film for a filmmaking course. "Sulo was invited to direct the main stage because she has displayed not just imagination and intelligence, but rarer qualities like organizational skills, dependability, keen listening abilities, and interpersonal warmth and care," says Paul Kuritz, professor of theater and Dissanayake's thesis advisor.
Coming from southern California and Montana, the play's two families are connected by the marriage of Jake and Beth. An incident of spousal abuse leaves Beth brain-damaged at the beginning of the play.
The play follows the two families in their struggle with Beth's brain damage and Jake's retribution. The families mirror each other, and the audience sees that Jake's out-of-control nature is influenced by his environment and his family.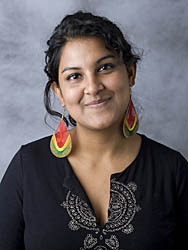 Dissanayake chose the play in part because of its wit. "Shepard uses a completely brilliant humor to comment on how absurd families can be," she says. "It's very dark but absolutely hysterical.
A Lie of the Mind has contemporary young people in the main roles but in socioeconomic conditions very unlike those of the typical Bates student," says Kuritz. "From underneath the superficial differences, the common brokenness of all people emerges."
Shepard is an American playwright who acts and directs in many of his own plays. In 1979, his play Buried Child received a Pulitzer Prize for drama. He has been nominated for an Emmy, a Golden Globe and a Screen Actor's Guild Award. "A Lie of the Mind," says Vecsey, has "a lasting impact. It will make you think about how people live their lives."
View Comments