L.L.Bean CMO Stephen Fuller '82 named Bates trustee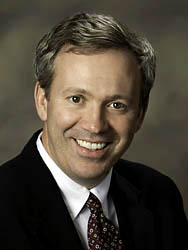 Bates College President Elaine Tuttle Hansen has announced the appointment of Stephen M. Fuller '82 of Freeport to the College's Board of Trustees.
Fuller is the chief marketing officer for L.L.Bean Inc. He oversees all strategic marketing functions for the company including advertising, customer planning and Web presence. Most recently he has been asked to oversee L.L.Bean's international business, including its move into China.
Fuller played a key role in the development of Bean's "Outdoor Advantage Program," the company's co-branded VISA card, and helped develop it into one of the largest affinity programs in the country. He also was responsible for the establishment of Bean's relationship with Subaru and the development of the automaker's L.L.Bean editions in the U.S. and Japan.
A Maine native, Fuller earned his bachelor of arts degree at Bates in 1982. He has an M.B.A. from Boston College and attended Harvard Business School's Advanced Management Program. He is on the boards of the Direct Marketing Association and Mail Order Association of America and is a frequent speaker at the Tuck Business School at Dartmouth College.
Fuller has been on the boards of several environmental and outdoor organizations, including the New England Nordic Ski Association, Friends of Casco Bay and the Appalachian Mountain Club. Fuller was also a ski coach for five years with the Freeport High School and Middle School Nordic teams.
He lives in Freeport with his wife, Deborah Loux Fuller '82.
View Comments