Guest artists to join Bates Gamelan performance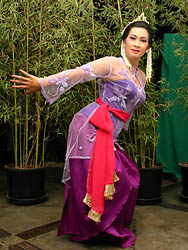 The Bates College Gamelan Orchestra, joined by professional guest artists from Indonesia, performs in concert at 8 p.m. Saturday, March 14, in the Olin Arts Center Concert Hall, 75 Russell St.
A few days earlier, a public workshop in Indonesian dance featuring two guest artists from Saturday's program takes place at noon Wednesday, March 11, in the Olin concert hall.
Both events are open to the public at no cost. For more information, please contact 207-786-6135 or olinarts@bates.edu.
The March 14 program is dedicated entirely to West Javan, or Sundanese, music. Guest artists include Wahyu Roche, a virtuosic drummer, and Ening Rumbini, a dancer who specializes in "jaipongan," a popular Sundanese dance. Roche and Rumbini will perform both by themselves and with the orchestra. They will also lead the March 11 dance workshop.
The concert also features singer Rina Oesman, who performs in a classical Indonesian style, and her accompanist, Andrew Bouchard, who plays the "kacapi," a stringed instrument similar to the zither. All four artists live in Bandung, West Java.
The Bates orchestra will perform music from a variety of Indonesian genres including "tembang Sunda," a formal style of sung Sundanese poetry, and "degung kawih," an ornamented style of singing accompanied by the "gamelan degung," a smaller chamber ensemble used in traditional music of the aristocracy.
Roche is a member of Jugala, a pioneering jaipongan group in Indonesia. The group opened for Mick Jagger in Jakarta in 1989. Roche currently performs as a freelance musician for several groups, has written music for the influential workshop theater founded by the playwright Rendra, and recently released his debut album as a vocalist.
Rumbini is a leading dancer of jaipongan, a modern popular style based on martial arts and village forms of dance. She has performed throughout Southeast Asia.
Unusually for a woman, Oesman studied with several master musicians and began performing when she was young. After winning first place in a prestigious vocal contest, she became a member of Jugala and began to tour internationally.
Bouchard began playing gamelan in 1984 at the University of California, Santa Cruz, under the direction of master drummer Undang Sumarna. From 1995 to 1998 Bouchard studied a variety of traditional instruments in West Java. He received a master's in ethnomusicology from UCSC.
In addition to public performances, the Bates Gamelan Orchestra makes a distinctive contribution to ceremonial events and is increasingly integrated into the arts and cultural curriculum.
The orchestra will perform on two sets of instruments, a complete Central Javanese set made by an artisan called Mulyadi, and a degung set acquired by the college in 2007 through the generosity of a private donor, Tony Lydgate, of Kaua'i, Hawaii. The degung instruments were made in Bandung, West Java, in 2006 by Asep Ahum.
View Comments