Bates literary series presents Two Kinds of Decay author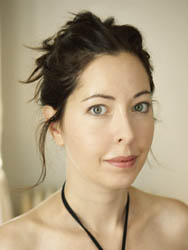 Sarah Manguso, author of the memoir The Two Kinds of Decay, reads from her prose at 7:30 p.m. Thursday, March 19, in Bates College's Skelton Lounge, Chase Hall, 56 Campus Ave.
The event is open to the public at no cost. Manguso, whose memoir describes her affliction, as a college student, with a debilitating auto-immune disease (now in remission), appears as part of the yearlong Language Arts Live series at Bates.
Presenting nationally renowned writers, the series is sponsored by the English department, the programs in environmental studies and Asian studies, the Bates Humanities Fund, Bates OUTfront and the John Tagliabue Poetry Fund.
"Contrary to the usual cliché, illness did not make Manguso a better person," a Boston Globe reviewer wrote of The Two Kinds of Decay (Farrar, Straus and Giroux, 2008). "It made her a more thoughtful, self-aware person. In simple, unsentimental language, she describes her initial symptoms, her sudden attacks, her treatments, her suicidal depression, and her progress as a patient and, incidentally, as a person."
Manguso's other books include the short-story collection Hard to Admit and Harder to Escape (McSweeney's, 2007), and the poetry collections "Siste Viator" (Four Way Books, 2006) and The Captain Lands in Paradise (Alice James Books, 2002). Her writings and criticism have appeared in The Paris Review, McSweeney's, The New Republic and The Boston Review. She received a Pushcart Prize and the Rome Prize in Literature for 2007-08.
Manguso's profile as a poet is distinctive because "her primary artistic medium is prose poetry, a form that simultaneously departs from conventional discourses of the lyric and subverts our expectations of narrative prose," explains Eden Osucha, an associate professor of English at Bates and one of the three organizers of the Language Arts Live series.
The others are Jonathan Skinner, assistant professor of environmental studies, and Rob Farnsworth, visiting professor of English.
The series is designed "to generate excitement about literature as both a living and a 'live' art form," Osucha explains. It's also intended to support literary creation as a community practice at Bates, "and to work toward creating a culture around those ideals — a culture of readings, of conversation, of inspiration, excitement and wonder."
She adds, "We want to bring artists that connect the diverse interests and backgrounds of staff, faculty and students, and connect with the rich and varied poetics and literary traditions of the broader Maine community."
Manguso has served as a learning associate at Bates during the week of March 16, offering a poetry master class and visiting an English seminar to talk about The Two Kinds of Decay in addition to the public reading.
View Comments