French professor recognized for integrating service, teaching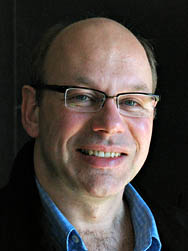 Alexandre Dauge-Roth, an assistant professor of French at Bates College, is one of three Maine college professors to receive a 2009 Maine Campus Compact award for infusing public service and civic engagement into their teaching. Dauge-Roth will receive a Donald Harward Faculty Award for Service-Learning Excellence in the Maine Campus Compact's eighth annual faculty and student awards ceremony April 16  at the Maine State Museum.
Dauge-Roth researches the Rwandan genocide of 1994, exploring personal, literary and film narratives created since Hutu extremists massacred as many as a million Tutsi and moderate Hutu. In the four years since he came to Bates, Dauge-Roth has fostered a correspondence between Bates students and survivors of the genocide.
During a 2006 trip to Rwanda, he established a network of genocide survivors who have corresponded in French with students in his seminar "Documenting the Genocide of the Tutsi in Rwanda" to document survivors' stories.
In 2007, Dauge-Roth's students created the organization "Bates Students for Peace in Rwanda," which received a $10,000 Davis Projects for Peace award to support a home for street children in Rwanda. Also in 2007, Dauge-Roth assembled an international conference that brought scholars, human-rights advocates and genocide survivors to Bates to discuss the 1994 events.
Of his research into the narratives created by genocide survivors, Dauge-Roth says that "I'm examining how these authors use an aesthetic of haunting. These testimonies and documentaries find ways to haunt the reader and the viewer, so that we cannot go back to our usual business and forget about it."
He adds, "I hope students will reflect on what it means to listen to a survivor. There's a lot to learn from them about the ability to struggle and to live on despite horrific loss."
In May, during Bates' five-week Short Term, Dauge-Roth will take 13 students to Rwanda for three weeks to conduct an oral history project with members of "reconstituted families" — families made up of genocide survivors who lost their siblings and parents. One such orphan is elected as the head of the household and acts like a parental figure for the others.
The MCC's Harward Award this year recognizes three Maine faculty members who have made public service an integral part of their teaching and have successfully advocated for civic engagement. In addition to Dauge-Roth, they are Christina Bechstein of the Maine College of Art and Nancy Ross of Unity College.
The award was named for Donald W. Harward, who retired as the sixth president of Bates College in 2002. Harward championed service-learning and other programs designed to make Bates a more active and valuable partner in the community life of Lewiston and Auburn. He is a founding president of Maine Campus Compact and former member of the board of directors of Campus Compact at the national level.
The Maine Campus Compact is a statewide coalition of college and university presidents established to encourage and enhance campus engagement in the community. The student Heart and Soul Award and the Donald Harward Faculty Award are presented annually.
View Comments