WRBC recommends…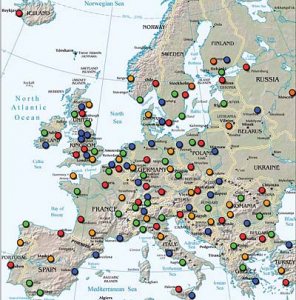 The Internet and digital music's portability have transformed radio stations like Bates' WRBC–FM, celebrating its 50th year of FCC-approved existence.
"People don't listen to hear a specific song," says publicity director Doug Ray '10 of Pittsburgh. "They listen to find something new." In that spirit, 10 WRBC jocks offer their suggestions, below.
Anamanaguchi "A high-energy mix of rock and hacked Nintendo game systems." — Doug Ray '11 of Pittsburgh
Animal Collective "Electronic group with a sharp ear for heavy pop beats, looping, magical sounds, and Beach Boys-esque harmonies all translating to incredible live performances." — Peter Senzamici '10 of Rockport, Mass.
Autechre "A beautiful sound spectrum ranging from robots taking lithium on one side to dissociative paranoia on the other." — Bradley McGraw '10 of Charleston, S.C.
Beach House "Baltimore indie duo with soft vocals and delicate instrumentation." — Ali Vingiano '11 of Hastings-on-Hudson, N.Y.
The Broken Beats "A Danish band that produces a wonderful rock-pop sound from the '60s: like The Small Faces but faster with more modern sensibilities." — Senzamici '10
El Perro del Mar "Unique acoustic sound that is full-bodied and intriguing. One of the best female songwriters I know of." — Griffin Peterson '09 of Fairfield, Conn.
FM Belfast "Icelandic four-piece electro band that is impossible not to dance to." — Peterson '09
Good Night, States "Five Pittsburghers getting together with guitars, drums, and synthesizers to produce indie pop." — Ray '11
Health "A four-piece band combining genres of noise-rock with dance and electronica to make eccentric, original sounds." — Vingiano '11
Matt & Kim "A power pop-rock duo out of Brooklyn comprising only a synth keyboard and vocals (Matt) and drums (Kim)." — Vingiano '11
Noah and the Whale "Hopelessly romantic and charming folk-pop with a feel-good sound beyond belief." — Liz Rowley '11 of Evanston, Ill.
Someone Still Loves You Boris Yeltsin "A poppy Midwestern folk group that lifts you up on a cloudy day." — Joe Cauteruccio '10 of Boston
The Soul of John Black "Masterful combination of soul, gospel, funk, and hip hop with amazing vocals and slide guitar." — Dan LaCasse, community DJ, of Auburn
Surkin "Parisian boy-wonder with a '90s approach to electronic dance music." — Rob Lindon '11 of London
Yelle "1980s-style dance hits made for 21st-century French discotheques." — Nelson Harris '10 of Zurich, Switzerland
View Comments