Men's crew traveling to UK for Henley Royal Regatta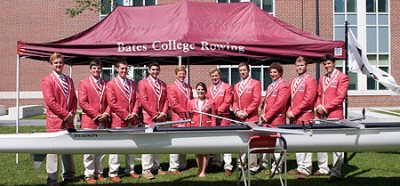 For the past three years, the Bates College men's rowing team has stood by as the women's team has qualified for, and excelled in, the NCAA Women's Rowing Championships. Since the NCAA doesn't sponsor championships in men's rowing, it would be understandable if there might have been mixed emotions about seeing their teammates get to extend their season in something resembling the limelight.
"These guys are very supportive and respectful of the women, but I'm sure it was difficult to watch sometimes, knowing that they might never have an opportunity to perform on such a stage," said Bates head coach Peter Steenstra.
But the teammates from the Class of 2009 had a different idea for the way their senior year could end differently: competing across the ocean, in the prestigious Henley Royal Regatta in Henley-on-Thames, England.
First, the Bobcats had to prove themselves worthy of the trip to Steenstra (admission is open). "My reply was simple — finish in the top three at New Englands and top four at ECACs and you'll have earned it," the coach said.
They took care of that part. The team enjoyed its finest ever year of competition, earning the bronze medal (and third place in the NESCAC) at the New England Rowing Championships. "There is no question in my mind that this is the best crew to ever come out of our boathouse, and these guys have earned the opportunity to compete on the international level," said Steenstra.
Of the 58 entries for The Temple Challenge Cup, one of the eight, NCAA Basketball Tournament bracket-style competitions (or "knock-out draws") within the Henley Royal Regatta, five are from the U.S.: Bates, Brown (freshmen), Princeton (lightweights), Kent School (high school), and WPI. Most boats are from the U.K., but there are handfuls from Ireland, Holland and Australia too. An original field of 58 boats will dwindle to 32 after June 26 qualifying involving only British and Irish boats. The 32 surviving boats will pair off for one-on-one, single-elimination races every day starting July 1 until July 5, when a champion will be crowned. (See all the entries at this link.)
The team is pumped, to say the least, and aside from the one week following graduation, have been doing two practice sessions a day since May 12. "I'm sure they would be the first to tell you that they are in the best shape of their lives," quipped Steenstra.
There will be no sightseeing for the team, only preparation and competition on the biggest stage of their lives. "Only if you compete for your country's national team will you reach a higher level of competition," said Steenstra. "I want the guys to appreciate the opportunity but not be intimidated.  We know almost nothing about the crews we are racing, and each race will be run like our one chance to win it all."
View Comments