Remembering Bob Hatch: 1991 Bates Magazine story at his retirement
Below are edited excerpts from an article on Bob Hatch originally published in the Fall 1991 issue of Bates Magazine and written by Ron Meldrum. Hatch died on Feb. 13, 2010.
In four decades at Bates, Director of Athletics Robert Hatch, who retired in June, has seen many changes. But he considers the gains made by women to be the most gratifying. When he came to Bates in 1949, Chase Hall was considered an all-male building and female students had to eat in Rand. Women could not use Alumni Gymnasium, and their athletic facilities were separate and frequently inferior to those for men.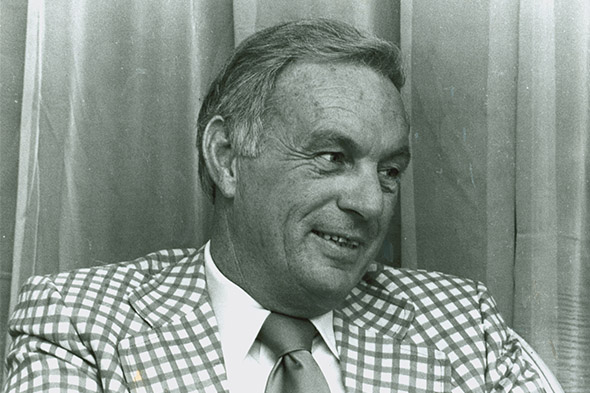 Since then, restrictive rules and regulations have been lifted, and the athletic programs for men and women have been fully integrated. "The women's progress has been astounding," Hatch said. "It was very smooth, and I think it was handled with even-handedness."
In 1949, men's sports and women's sports — the programs, faculty and staff — were entirely separate. So separate were the sexes that staff from one athletic department often did not know many of the staff from the other, he said.
"There were eight male sports and about seven or eight women sports, totally separated," Hatch said, "and now there are 27 sports and they are totally integrated."
The separation came to an end when, in 1974, President Thomas Hedley Reynolds, under the impetus of Title IX, merged the women's and men's athletics programs into one department.
"There were eight male sports and about seven or eight women sports, totally separated," Hatch said, "and now there are 27 sports and they are totally integrated."
Hatch has seen many other changes during his years at Bates as the College has grown. He has watched as new buildings and staff have been added, as well as new departments. But he stresses that although there have been many physical changes, the College's philosophy has not changed. Bates, he said, has always been ahead of its time in many areas.
"No fraternities — that was unique back in those days, '49 and the early '50s." He added that only now are many colleges grabbing hold of this idea as they see the problems caused by fraternities on campuses. "Finally most of them are catching on that that's the route to go."
After the women's progress, the biggest achievement Hatch has had a part of at Bates has been the construction of Merrill Gymnasium. For years, the athletics facilities at the College were inadequate, so Hatch and other members of the department pushed for a new building.
"It was really in the works the year I was appointed [athletic director in 1974],"  Hatch said. "It was finally completed in 1980, but we were working on it even before 1974. We had a committee that studied the building, which I was a part of in 1970-71."
Hatch came to Bates in 1949, giving up a potential professional football career. The Bates job was more secure, he says, and he was looking for security for himself and his young family.
He and his family moved into the Sampsonville apartments  — they were former army barracks — with other young faculty members. It was a bit of a shock at first, he said, since they had left a new house they had just built in Massachusetts, but they got used to it.
"As it turned out," he said, "the living quarters were not luxurious by a long shot, but it was a nice community. Bates students mixed with Bates faculty, and most of the faculty were young and just out of the service like I was."
But he's not heading into retirement entirely without regret. He will miss the job he's worked at for four decades, and the people he's worked with.
"I'm going to miss the personal associations with my colleagues, both on-campus and off-campus, but mostly the association of the twenty-five to thirty people I work with right in my department. It's a close-knit group."
View Comments