Summer Scholars Program gives first-years solid start in math, science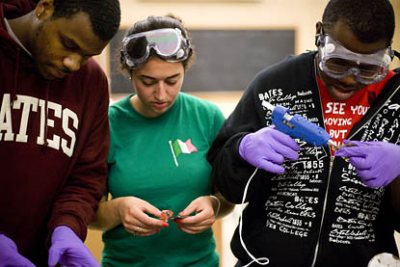 Tara Prasad, a high school senior from Lincoln, R.I., was touring an activities fair at Bates College last spring when she noticed a display about the Bates Summer Scholars Program.
The program is an accelerated introduction to the sciences and math for entering first-year Bates students with particular interest and aptitude in those subjects. In six intense weeks, participants take two courses equivalent to regular-semester Bates courses, building skills and relationships that reinforce their commitment to math and science.
"At first, I was hesitant to spend the summer before college actually studying," says Prasad. During her Bates visit, though, she met Shameena Khan, a Bates sophomore who had taken part in the program in 2007, its first year. Khan sang its praises to Prasad.
"She was like, 'You definitely want to do this,' " Prasad says. "So I learned more about it and thought it would be a good experience. That's why I chose to do it."
Prasad was among the 10 soon-to-be Bates first-years, including two from Maine, accepted into this year's program. "It's been a great segue into college," she says.
The program's goal is to build a community of science scholars from among a diverse group of first-years, including first-generation college students and students from groups underrepresented in the sciences. It introduces these students to college-level academics and helps them develop time-management, research and study skills.
"A lot of factors can get in the way when students arrive as first-years," says Joshua Henry, a visiting assistant professor of chemistry who taught a course in this summer's program. "Social things are happening. Students are getting out of the house for the first time."
Those distractions can keep students from doing well in tough courses, he notes. "And they may lose that interest in science if they have a rough introduction. Hopefully, if they're confident about their skills, they won't feel so overwhelmed."
Henry adds, "We're confronting a huge number of important problems in science, and we need more science and engineering students. If we can do anything that makes it easier for students to envision themselves as scientists, I'm willing to do it."
The 10 Summer Scholars will receive full academic credit for the two courses in the June 28-Aug. 7 program. Henry's course, "Energy," is a quantitative examination of various energy sources. Lab projects included the conversion of vegetable oil into biodiesel fuel and the creation of functioning photovoltaic cells from the unlikely combination of titanium dioxide and that quintessential Maine product, blueberries.
Lecturer in mathematics Grace Coulombe, director of the college's Math and Statistics Workshop, taught the second course, "Great Ideas in Mathematics."
A key program objective is to encourage the students to build relationships with people who can guide and support them once regular classes begin. Such supporters include faculty, staff and older Bates students who serve as teaching assistants in the summer courses and as "residence fellows" who live with the Summer Scholars.
Lauren Okano, a Bates junior from Wyoming who took part in the inaugural summer program, can vouch for the value of these bonds. "I came into the school year with faculty connections and friends, and I was already adapted to living at Bates," she says. "I knew exactly who to go to if I needed something in particular."
Bringing her involvement full circle, Okano has served as one of two residence fellows for this summer's program, living with the new students in a house at Bates. "Lauren taught us work together," explains Akinyele Akinruntan, a Summer Scholar from Memphis, Tenn.
"She told us to make sure we take advantage of the resources that are here for us."
"The fact that we were living in a house, the 10 of us together, was really exciting," adds Olivia Romeo of Toronto. "We could just knock on someone's door and try to solve a homework problem with our roommates."
The 2009 Summer Scholars Program was made possible by a generous gift from a Bates alumna and by a grant from Chevron.
Along with Prasad, Akinruntan and Romeo, the 2009 Bates Summer Scholars are:
Gabriel Borland of Orono, Maine
Kaira Cody of Kayenta, Ariz.
Aubrey-Joseph Hill of Sacramento, Calif.
Sonia Luna of New York
Phi Nguyen of Methuen, Mass.
Trinh Nguyen of Portland, Maine, and
Angel Pena of Providence, R.I.
View Comments