Wenzel receives national honor for chemistry research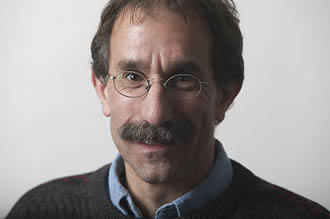 Bates College chemistry professor Thomas Wenzel has received the American Chemical Society's 25th Award for Research at an Undergraduate Institution.
---
Wenzel, a Lewiston resident who came to Bates in 1981, is the Charles A. Dana Professor of Chemistry. The ACS award recognizes faculty at undergraduate institutions whose research has been widely recognized and who have contributed significantly to both the field of chemistry and the professional development of students.
The ACS award "is the single largest honor that a chemical researcher at an undergraduate institution could hope for," says Rachel Narehood Austin, chair of the Bates chemistry department. "For Tom, it's a profound recognition of his substantial accomplishments over a very vibrant career."
The award, including grants of $5,000 to Wenzel and $5,000 to Bates, bestows priceless professional validation. It acknowledges the distinctive challenges of conducting meaningful research at undergraduate institutions, in contrast to large research universities that offer extensive infrastructure, big budgets and the assistance of experienced graduate students in the lab.
As an analytical chemist, Wenzel conducts research on the development of methods to identify and quantify chemicals in mixtures.
Specifically, he studies techniques for discerning chirality — a phenomenon in which two molecules are mirror images of each other. In some cases, such compounds have significant reactive differences. A "right-handed" molecule of a given chemical might have beneficial medical properties, but its "left-handed" equivalent will be toxic.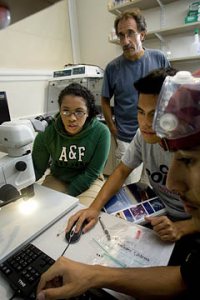 Wenzel is known internationally for this research that has resulted in more than 120 publications and attracted some $2 million in external grants, including six rounds of funding from the National Science Foundation.
During Wenzel's time at Bates, 107 students have collaborated in his research and 76 have co-authored peer-reviewed publications about the work. He has been particularly active in involving students from groups historically underrepresented in the sciences in his work.
"The student is involved in all the stages of implementing a project," he says. "Students are expected to become equal partners — offering suggestions, going through the literature, sorting out problems along the way."
Courtney O'Farrell, a 2007 Bates graduate in biochemistry, is a former Wenzel student and research collaborator now researching anti-cancer drugs and pursuing a doctorate at Johns Hopkins University School of Medicine. She spent a summer in Wenzel's lab designing and testing molecules for use in nuclear magnetic resonance spectrometer analysis.
"Tom had five students in his lab, and we all had our own projects, which really allowed us to gain confidence and independence," she says. "He was good about being available for questions and advice, but also gave me the independence to come up with experiments on my own. It was the perfect balance."
She adds, "Tom was an amazing mentor. He taught me how to have confidence in myself and to be an independent thinker."
Wenzel calls the ACS award doubly gratifying, honoring both his direct contribution to chemistry — his ongoing research — and the ripple effect created by inspiring students to pursue careers in science.
He and Bates are a good match in this regard, he explains, citing the level of support and encouragement the college gives to student research. People, he says, are "inherently interested in how things work in the world. That's what science really is. In doing research, students really start to participate in exploring the unknown."
View Comments