Global Lens series opens with Getting Home
The film Getting Home from Chinese director Zhang Yang opens the Global Lens Series of films from around the world at Bates College with 8 p.m. showings on Friday, Sept. 11, and Sunday, Sept. 13, in Room 105 of the Olin Arts Center, 75 Russell St.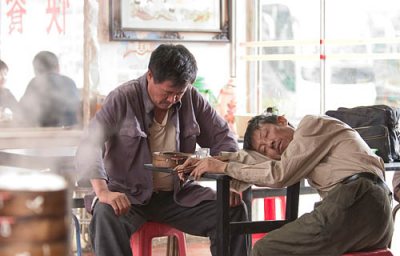 Hosted by the Bates College Museum of Art, the series continues on Fridays and Sundays throughout the fall. Admission is $5. For more information, please contact 207-786-6135 or this olinarts@bates.edu.
The series is produced by the Global Film Initiative in an effort to promote cross-cultural understanding through the medium of cinema by showing little-known, skillfully made independent films to American audiences. The initiative believes that "a powerful, authentic narrative can foster trust and respect between disparate cultures and mitigate the social and psychological impact of cultural prejudice."
Getting Home tells the story of Zhao, a construction worker who has promised to bury a dying coworker in the Three Gorges region, hundreds of miles away. The comedy follows him on this journey, detailing his adventures and encounters with the colorful inhabitants of the Chinese countryside.
A humorous and moving tale of friendship, Getting Home was described by Derek Elley of Variety as "an on-the-nose portrait of modern Chinese provincial life in all its absurdities."
Made in 2007, Getting Home is in Mandarin with English subtitles.
Getting Home is the fifth feature film from Zhang Yang, a director who began making movies after finding success as a director of plays and underground music videos. Yang's films have won numerous awards, both in his native China and abroad at venues like the Toronto Film Festival, where his film Shower was awarded the FIPRESCI prize from the International Federation of Film Critics to mark enterprising filmmaking.
Learn more about Getting Home and the entire Global Film Series.
View Comments