President Emeritus Thomas Hedley Reynolds, champion of academic excellence, dies at 88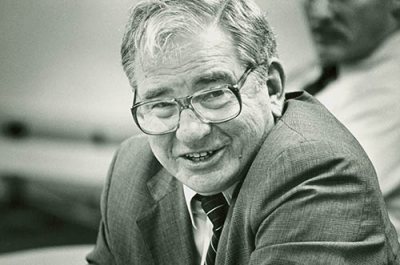 Thomas Hedley Reynolds, known for nearly three decades of transformational leadership at two Maine educational institutions, died Tuesday, Sept. 22, at his home in Newcastle, Maine, after a long illness. He was 88 years old.
---
His wife of 24 years, Mary Bartlett Reynolds, was with him at the time of death.
Reynolds served as president of Bates College from 1967 through 1989, and of the University of New England from 1990 to 1995. His success as commander of an armored unit in the Mediterranean theater of World War II came to symbolize Reynolds' qualities as an academic leader: far-reaching vision, decisiveness and energetic determination.
At Bates, Reynolds presided over a regional school's evolution into a national liberal arts college now regarded as one of the nation's best. He led Bates to strengthen its faculty and curriculum, add such key facilities as a modern library and arts center, diversify its student body and eliminate the SAT requirement.
"He brought a renewed sense of confidence and purpose," says John Cole, a faculty member who arrived soon after Reynolds and now holds an endowed history professorship bearing Reynolds' name. "He enlarged this place, invigorated it, professionalized it."
---
A memorial service for President Emeritus Reynolds takes place at 2 p.m. Saturday, Oct. 24, in the Bates College Chapel, College Street. For more information, please call the Office of the President, Bates College, at 207-786-6102. In lieu of flowers, donations can be made to:
The Thomas Hedley Reynolds Professorship in History, in care of the Office of College Advancement, Bates College, 2 Andrews Road, Lewiston, Maine 04240;
Or, to the scholarship fund at the University of New England in President Reynolds' memory, in care of Scott Marchildon '95, assistant vice president of institutional advancement, UNE, 716 Stevens Ave., Portland, Maine 04103; telephone 207-221-4230.
---
Reynolds left retirement to become the third president of the University of New England, in Biddeford. (The university added a Portland campus in 1996.) Originally taking the position on a short-term basis, Reynolds ended up giving that growing institution five years of valuable service.
"He saw something here, material in the raw that had the potentiality for greatness," UNE trustee Neil Rolde wrote in a 1995 tribute to Reynolds in "Coastlines," the UNE magazine. "That is perhaps his greatest gift to what is, after all, a fledgling institution, now on its feet, no longer shaky, ready to flex its muscles."
Reynolds was born on Nov. 23, 1920, in New York, the son of Wallace and Helen (Hedley) Reynolds. He attended The Browning School in New York City and Deerfield Academy in Massachusetts, from which he graduated in 1938. In 1942 he earned a bachelor's degree in political science at Williams College.
With America embroiled in World War II, Reynolds enlisted in the U.S. Army and served as a unit commander in a tank battalion that fought in North Africa and Italy. Reynolds earned the Army's Bronze Star and the French Croix de Guerre with Silver Star.
After the war, he earned a master's degree in 1947 and a doctorate in history in 1953, both from Columbia University. After teaching at Hunter College and serving as staff historian for the American Red Cross in Washington, D.C., Reynolds joined the history faculty at Middlebury College in 1949.
Reynolds remained at Middlebury for 18 years, becoming head of the history department and dean of men in 1957, and dean of the college seven years later. He was known there as "Dean Tom."
Reynolds became Bates' fifth president in January 1967. The expansion and evolution that distinguished his tenure touched nearly every facet of the Bates experience, from student life to academics, from physical facilities to college finances.
"Hedley felt it was his job was to make the big decisions, and then to let his officers run their own operations," says William Hiss, a 1966 Bates alumnus, admissions dean under Reynolds and now vice president for external affairs. "For all his tank-commander management style and very private personality, he made a whole raft of big decisions for Bates correctly."
---
Reynolds' contributions to Bates are documented in his administration files, available at the Muskie Archives and described online.
---
The championing of the Bates faculty was perhaps Reynolds' greatest achievement. "Throughout his presidency, his core interest was developing the quality of the faculty, and consequently the quality of the curriculum and of the undergraduate experience," says Carl Benton Straub, a professor emeritus of religion and the Clark A. Griffith Professor Emeritus of Environmental Studies. Straub served as dean of faculty under Reynolds for 15 years.
"He had a clear understanding of what excellence was in a college of the liberal arts and sciences. He knew how to instill in the faculty a sense of pride in the institution and the self-confidence to develop the quality of the place."
An early step was Reynolds' emphasis on improving salaries in an effort to attract and retain high-quality faculty. Under his administration, the faculty grew from 65 full-time equivalents, with 46 percent holding doctorates, to 114 full-time equivalents with 80 percent holding the Ph.D. Bates markedly improved its faculty-student ratio during the Reynolds years, as well as achieving greater gender equity.
Reynolds led Bates in diversifying its student body — academically, geographically, ethnically and racially. It was during his tenure that the college ceased to require that student applicants report their SAT scores, a move that widened the range of accepted students without affecting academic standards, as later Bates studies showed.
Arriving at a time of student dissatisfaction with strict and archaic campus social rules, Reynolds guided Bates through the tensions of the late 1960s and 1970s. In May 1970, Reynolds famously drove a truck to support Bates students who, responding to a national student strike protesting the Vietnam War, performed three days of community service in Lewiston.
Reynolds' tenure at Bates saw the construction of a new library, an arts center, a field house and the conversion of the former women's athletic building into the Edmund S. Muskie Archives. Bates created four new academic departments, expanded its distinctive five-week spring Short Term semester and established the Bates Dance Festival, now a nationally renowned summer program.
"He had great generosity of spirit," says Judith Marden, a member of the college class of 1966 and former Bates administrator who worked with Reynolds. "He was wonderful to work with — full of energy, direct, outspoken, generous with his time and his opinions and his war stories.
"You always knew who he was and what he stood for."
Reynolds took the helm of the University of New England just 12 years after that institution was born from the merger of a small liberal arts college and a school of osteopathic medicine. His tenure was marked by steady increases in student enrollment, academic prestige and financial capability. A signal Reynolds achievement was the construction of the Harold Alfond Center for Health Sciences, product of a capital campaign that won the university's first million-dollar gift.
Reynolds' confidence in UNE, wrote Rolde, "has bred excitement and success, which in turn generates further excitement and success."
Off campus, Reynolds served as a director of the Public Broadcasting Service in Washington, D.C., and as a trustee and chairman of the board of WCBB-TV in Lewiston; a member and director of the National Association of Independent Colleges and Universities; a longtime director of Liberty Mutual; and a director and president of the New England Colleges Fund.
He chaired the Governor's Special Commission on the Status of Education in Maine. "Because of the outstanding work he did . . . [in that role], thousands of Maine children will be better prepared to live productive lives when they leave public school," former Maine Gov. Joseph Brennan noted in a letter in the Portland Press Herald.
Reynolds held honorary degrees from Williams, Bowdoin, Colby, Middlebury and Bates colleges and from the University of Maine.
Known on campus as a private man, Reynolds was a voracious reader and an outdoorsman who enjoyed skiing, tennis and particularly sailing.
Reynolds was predeceased by his parents and by a son, David Hewson Reynolds, one of four children born during his marriage to Jean Fine Lytle. They married in 1943.
In addition to his wife and Jean Lytle of Randolph, Vt., he is survived by a sister, Elizabeth Reynolds Henderson of Locust Valley, N.Y.; two sons, Thomas Scott Reynolds of West Tisbury, Mass., and John Hedley Reynolds of Stannard, Vt.; and a daughter, Tay R. Simpson, also of Randolph.
— by Doug Hubley, Staff Writer
View Comments