Students explore local need for Islamic banking practices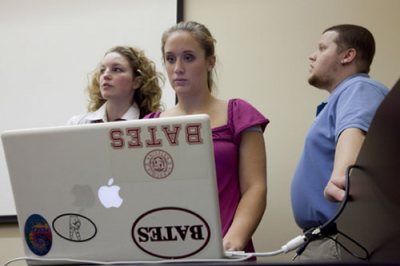 By Brittney French '11
Fixed rates, home loans, mortgages — banking concepts like these are almost nonexistent in my day-to-day dialogue as a Bates College student.
But soon this will all change. When I graduate, I'll become part of the economic world in an entirely new way. Most importantly, I'll have opportunity: the choice to take out loans for houses, cars or perhaps my own business.
For some members of our community, though, this simple freedom of economic choice does not exist. Religious considerations prohibit Muslims in our community from using the American system of banking. Specifically, they are forbidden to use banking products that involve interest or money begetting money.
"We can't prosper if we can't get the right capital to sustain ourselves," said Ismail Ahmed, a member of Lewiston's Somali community and a consultant to employers looking to hire Somalis. "We miss out on an important American dream of becoming homeowners. It affects the type of schools our kids go to and where we reside."
While a few U.S. banks do offer a full range of Islamic banking products, none are found in Maine. But Lewiston's Androscoggin Bank wants to change that.
---
---
That's why, at the bank's request, my Bates anthropology class "Production and Reproduction" took on a community-based research project involving the local Somali population this semester. We explored ways in which Islamic and American banking differ. Our research gave the bank ideas for Islamic banking services.
And the most important idea was also the most straightforward: We advised the bank to make sure that the local Somali community knows that Androscoggin wants to implement banking products that conform to Muslim beliefs.
Taught by the chair of the Bates anthropology department, associate professor Elizabeth Eames, the course integrates the disciplines of anthropology and economics by analyzing economic behavior from cross-cultural perspectives.
"Part of the theme in the class is that choices are constrained, constructed and contextualized by values and by culture," Eames said. For local Somalis, economic choices are constrained by the incompatibility between Western banking practices and Shariah law, which guides how Muslims live their lives.
The biggest barrier, we learned, is Shariah's prohibition against any financial system where money begets money — a concept central to Western banking. Muslims can't pay or receive interest on loans, accounts or mortgages.
Another key theme that emerged in our research was the Islamic emphasis on relationships of personal trust. "There are a lot of barriers we need to break down and one of those is clearly trust," said Paul Andersen, Androscoggin Bank's executive vice president and chief operating officer.
Our project was suggested by Christine Conrad, senior vice president for marketing at Androscoggin Bank and a member of the Bates class of 1990. She was motivated by an article in the spring 2009 issue of Bates Magazine about a similar research project Eames did with last year's class involving local employment of Somalis.
Eames felt Conrad's idea was perfect for our class. "I thought I could have the students explore the way in which Muslims' values impact their economic lives and at the same time be helpful to the bank and the community."
The group of students that I was a part of compared international and U.S. financial systems that offer banking services compliant with Shariah law.
A second group interviewed Somali laypeople about their interpretations of Islamic law concerning loans and banking services. Their interviewees included people from various professions and socioeconomic backgrounds, and members of both the Somali Bantu and ethnic Somali communities — two distinct populations.
"They were really receptive," interviewer Hannah Arenstam '11 said. "Mostly they stressed that this is a really important need in the community."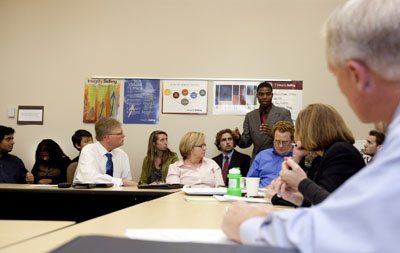 The third group interviewed the religious leaders, or imams, of both the ethnic Somalis and Somali Bantus. The students asked the imams how banks could create a system that would serve the Somali community.
After a few run-throughs and some diligent PowerPoint editing, we presented our final report, "Culturally Informed Banking: Shariah Compliance in Lewiston-Auburn," on Nov. 9 at a meeting with nine key decision-makers from Androscoggin.
Along with setting the context of Somali community needs and the conditions that Shariah law places on banking, we offered specific recommendations for appropriate banking products:
The bank should lay out a potential contract with Somalis before accepting them as clients, and should detail all fees upfront. How the money from fees will be used must also be specifically stated.
We recommended that the bank integrate community members into the planning process of establishing compliant products.
Finally, we suggested that, in the near future, the bank employ a Muslim community member to act as a liaison between the bank and the Somali community.
Andersen, who credited our class with "a lot of poise and a lot of presence" in the presentation, said in an interview afterward that "the No. 1 thing we are going to do is build trust in and knowledge of the Somali community.
"We want to use this information and find good ways to reach out."
That's important, said Ismail Ahmed. "Advertisement has been the wheels behind the success of the banks. If people don't know about your services, you don't exist in their minds."
Writing about this semester-long project reminds me of the immense amount of knowledge and experience I gained from it. Not only did I learn how cultural values impact economic life, I also saw firsthand how anthropology ties in with professional aspects of life.
I realized, too, how difficult it must be to conduct daily activities without banking services. For example, without the simple freedom to borrow money, many of us would not be able to attend Bates.
I realized how confusing and puzzling banking can actually be. I found myself "lost in translation" at times when hearing about our own banking system. As a native speaker of English, I can't imagine what a non-native speaker has to deal with when reading financial contracts.
Finally, our class project brought home to me Bates' strong commitment to community-based research. I personally believe it's an important component of a Bates education and it's also great when you have a professor who believes the same.
"It's essential and central to what I do and what Bates stands for," Eames said.
As for Androscoggin Bank, how long before it will take action?  "As short of a time as possible," said Andersen. "This is something that's needed now."
— Brittney French '11
View Comments