Bates Matters: Homage to Hedley
President Reynolds understood the interplay of teaching, scholarship, and service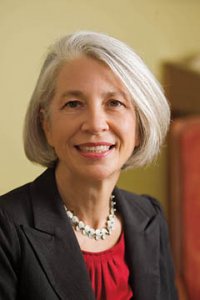 By President Elaine Tuttle Hansen
Like other members of the post–World War II baby boom who went into academe, I emerged from graduate school in the mid-1970s. Here at Bates, a new generation of professors like Martin Andrucki, Mark Semon, Steve Kemper, and Carole Taylor — plus many others, boomers all — arrived in response to what was promised them: the opportunity to be vigorous scholars and great teachers.
The man who welcomed them into the academy was Thomas Hedley Reynolds, the fifth president of Bates College. Reynolds, who served from 1967 to 1989, died on Sept. 22 at age 88.
Perhaps Reynolds' single greatest contribution to Bates, the achievement that accounts for the extraordinary academic quality of this College, was building a faculty that was bigger, better, and prouder.
Reynolds championed the kind of restorative and transformative teaching that needs to occur at a great liberal arts college.
In quantitative terms, adding more professors effectively decreased each professor's teaching load, giving them more time for scholarship. John Cole, the Reynolds Professor of History, also arrived at Bates in 1967, and he recalls the "erosion of morale and even of self-confidence" among an overworked faculty. Without time to pursue scholarly work, young professors could neither get a firmer grasp on their teaching fields nor strengthen their hold on one specialty.
Under Reynolds, Bates went from 1,004 students and 65 faculty members in 1967 to 1,506 students and 125 faculty members in 1989. The student-to-faculty ratio improved from 15–1 to 12–1, and today stands at 10–1, with 1,776 students in residence this fall.
Yet Reynolds did more than just hire bodies and give them more time to teach and do research. He fostered a distinctive integration of the two endeavors by improving the entire intellectual climate at Bates; most importantly, Reynolds championed the kind of restorative and transformative teaching that needs to occur at a great liberal arts college. And here I'm not talking about the transformation of students, the "slow process by which the crude boy develops into the scholar," in the words of George Colby Chase. Rather, I'm talking about the interplay of teaching, scholarship, and service that enables the young professor to change, grow, and mature.
For example, my own Ph.D. graduate work focused on Old English — a subfield rarely taught at an undergraduate college — so my destiny seemed to be a research university. But during a post-doctoral stint as a lexicographer at the Middle English Dictionary at the University of Michigan, I learned enough about later Middle English to land my first faculty job, at Hamilton College, where I taught Chaucer and other subjects.
I also had to teach a short winter term, so I turned to a pile of books on my night stand (ostensibly there for pleasure reading) and created a course on contemporary women writers. Fresh thinking in that area dovetailed neatly with what was going on at Hamilton at the time, as the formerly all-male school absorbed all-female Kirkland College. Amid intense curricular, pedagogical, and governance debates, I joined an organized group of professors who contributed to the discussions. It was my first stab at thinking institutionally, and I liked it.
Reynolds expanded the intellectual space, making Bates more open to the world.
At Haverford in the 1980s and 1990s, my Chaucer research and my work around contemporary women writers initially continued on parallel tracks. Any sense of academic schizophrenia was ameliorated, however, as conversations with students and colleagues obliged me to ask pressing contemporary questions about Chaucer, which in turn led to my second book, Chaucer and the Fictions of Gender.
For me, these kinds of classroom experiences, combined with collegial interactions on and off campus, continued to sow seeds for innovative academic and programmatic work. I was given the freedom to experiment, think tangentially, and wander off-topic from my immediate research projects. This freedom was productive, professionally therapeutic, and a virtue of the liberal arts tradition.
At Bates, Hedley Reynolds created similar opportunities for his young faculty, expanding the intellectual space so faculty could flourish and evolve. In this sense, he made Bates more open to the world, such as during the national Vietnam War protests (see the related story). Reynolds was attentive to student and faculty voices — also helping to amplify their voices from the presidential bully pulpit — without being directive.
New freedom and openness meant that young Bates professors could begin to claim membership in their far-flung disciplinary communities while staying productively engaged with the campus community. And they seized this opportunity, becoming great teacher-scholars.
In the end, the presidency of Thomas Hedley Reynolds is a gift from his generation, the Greatest Generation, to my own generation. In an even more lasting and vital sense, it is a gift to Bates College.
View Comments