The Essential Arin Arbus
Off-Broadway director Arin Arbus '99 makes Shakespeare sizzle by keeping it simple
By Charles Antin '02
Arin Arbus '99 and I are about to share a bottle of red wine at Bar Henry, a bistro on West Houston Street in Lower Manhattan. Arbus has just arrived; I, however, have been here 20 minutes, drinking a beer to calm my nerves.
Arbus is, according to critic Charles Isherwood of The New York Times, the "most gifted" new theater director to emerge in New York in the last year. Her off-Broadway production of Othello, he wrote, handled Shakespeare with the "kind of artistry we always hope for and rarely find."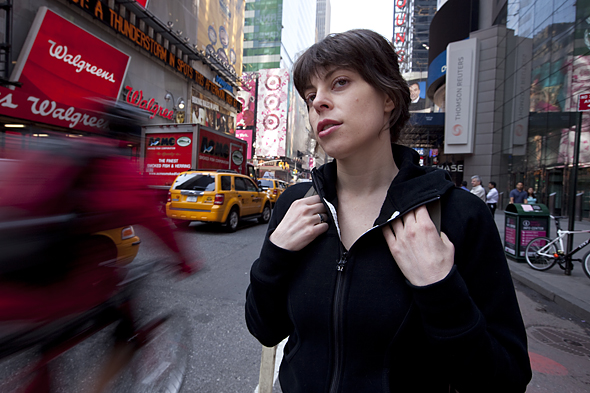 At present Arbus is an associate artistic director with Theatre for a New Audience, a highly regarded New York City company that focuses on Shakespeare and classic drama. But it's not her professional stature that has me nervous.
As a writer, I'm just wondering if having this tête-à-tête is an effective way to understand Arin Arbus. I had assumed, perhaps naively, that to know a director you have to see her directing. But she's between theater projects at the moment.
Such an interim, she tells me, is "the time to try to understand the successes and failures in past productions and to dream about future ones. It's an essential time for me. A time to recharge."
With that cue, we talk about her recent volunteer work at Woodbourne Correctional Facility, a medium-security men's prison in upstate New York. She works for a program called Rehabilitation Through the Arts, leading a theater company of prisoners in a variety of productions, such as Of Mice and Men and, recently, a play the men wrote about maintaining family life while incarcerated.
She points her knuckles together while flexing her biceps, meaning that the prisoners are generally burly. Arbus is slender.
Another recent production began as a modern dance, choreographed by a collaborator and fellow volunteer. Then Arbus gave the prisoners writing prompts, and they performed spoken word during the dance — a sort of hybrid performance piece.
Eighty percent of the Woodbourne prisoners have a violent felony conviction, so I ask Arbus to describe them. She smiles and does one of those muscleman moves, pointing her knuckles together while flexing her biceps, meaning that the prisoners are generally burly. Arbus is slender.
Physical and gender contrasts notwithstanding, I am curious how a director creates a working relationship with actors, whether in prison or on a Manhattan stage.
She answers by comparing working with a theater company — as she does in prison — to working in the style of conventional American theater, where actors come and go from production to production.
"Working with a company is different, and I've learned a great deal," she says. "The group naturally passes through a honeymoon stage and endures periods of frustration — intense disagreements, hurt feelings, and at times people take one another for granted. All of this is, of course, both healthy and difficult to sort out."
But, she adds, the joys of a company "are immense. A method of working is established, a common theatrical vocabulary develops, a real sense of trust is generated. People get to know one another very deeply — and not necessarily on a personal level."
The prisoners volunteer for the theater company because it helps them to grow as individuals, she says. I ask if maybe they're trying to avoid doing something else. She smiles slyly at me, like I just don't get it, and assures me that's not the case. Prisoners are busy, she says, and they have to make time for the theater, which they do willingly and with passion. It's that kind of desire for pure theater, often absent in a professional setting, that brought her to Woodbourne in the first place.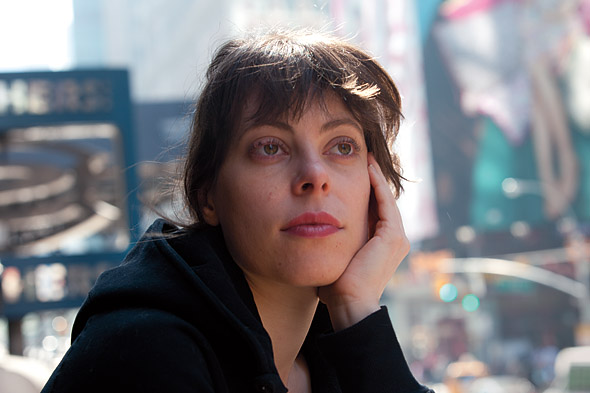 For example, there's a Department of Correctional Services rule: You don't exchange personal information with prisoners. "I've found that freeing," Arbus says. "We don't have the chance to cling to the superficial details that give people the illusion that they 'know' each other. We focus on the work at hand, so we encounter each other in a very simple, profound, and almost existential way. Surprisingly, a tremendous feeling of intimacy emerges. I find it humanizing."
One writer has heard Arbus talk about the liberation of anonymity and concluded that she's unwilling to share her personal story. But after 45 minutes and half a bottle of wine, I don't see that quality, and neither does she. "I don't think of myself that way," she says. "I don't have many secrets — no more than your average fellow."
She says that the spare, intense work with the Woodbourne company "feeds" her off-Broadway work "and vice-versa."
In prison, the theater productions are, by necessity, text-driven and "without razzmatazz," she says. And as Arbus and Jeffrey Horowitz, artistic director for Theatre for a New Audience, start to plan one of their productions, they always return to one question: "What are the essentials of this production?" And forcing herself to ask and answer questions about her work's essential nature, Arbus tells me, "continually helps me to clarify my own theatrical values."
In his review of Othello, Isherwood of The New York Times alluded to Arbus' skill at creating eloquence from "trenchant simplicity." Arbus, he wrote, "gets out of Shakespeare's way." Actors arranged on a simple thrust stage become the setting of "rich emotional eloquence."
Her career shift from visual art to the theater happened because she felt "alone with my ideas" when she painted.
Originally from Los Angeles, she is the daughter of actors (her father is Allan Arbus, familiar to readers as the character Sidney Freedman in M*A*S*H). After graduating from Bates as an art major, Arbus considered a career as a visual artist and painter but veered away. She instead embraced the theater after a summer at the Williamstown Theater Festival, where she directed two productions.
Arbus has been with Theatre for a New Audience for six years, and was promoted to associate artistic director after Horowitz saw her Woodbourne adaptation of Of Mice and Men. She directs one TFANA play of several done annually. She followed 2009's Othello with Measure for Measure last winter.
Her career shift from visual art to the theater happened because she felt "alone with my ideas" when she painted. "I found that isolating."
It also left her feeling creatively ineffective. "What you can invent together in the theater is going to be far more complex and more interesting than anything I could invent alone. There's something basic in us that wants to build shared meanings — it's primal."
Charles Antin '02, who lives in Brooklyn, has had essays published in Food & Wine, The Virginia Quarterly Review, and The New York Times.