French musicians to perform Schubert's 'Arpeggione' sonata at Bates College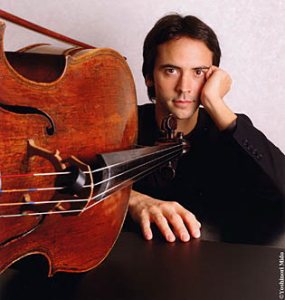 Cellist Jean-Guihen Queyras and pianist Alexandre Tharaud perform a program including Franz Schubert's Sonata in A minor for Arpeggione and Piano at 7:30 p.m. Wednesday, March 10, in the Olin Arts Center Concert Hall, 75 Russell St.
The program also includes sonatas by J.S. Bach, Debussy and Poulenc. Tickets cost $12 for general admission and $6 for seniors and students, and are available at www.batestickets.com. For more information, contact 207-786-6135 or this olinarts@bates.edu.
Resembling a bowed guitar, the arpeggione enjoyed a brief popularity in the early 19th century. Schubert's sonata, composed in 1824, is the only substantial piece of music for the instrument, and today cello is generally used for the arpeggione part.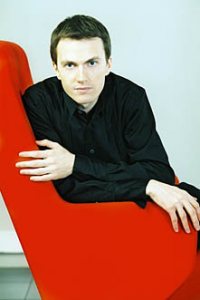 Queyras and Tharaud's recording of the piece was released in October 2006 by Harmonia Mundi France on a disc also including music by Webern and Berg. The recording's success brought the pair numerous performance opportunities at venues including Frankfurt's Alte-Oper and the Concertgebouw in Amsterdam. The album was an "Editor's Choice" in Gramophone and a "Chamber Music Choice" in the BBC Music Magazine.
Queyras' focus is on repertoire for solo cello that brilliantly demonstrates the exceptional narrative and expressive force of the instrument. He has appeared as a soloist with orchestras around the world and performed at Carnegie Hall with Concerto Köln in March 2004. A professor at the Musikhochschule in Stuttgart, Germany, he plays a cello made by Gioffredo Cappa in 1696.
Tharaud has performed with leading orchestras across Europe and in Asia. His recordings for Harmonia Mundi, such as the 2001 collection of Rameau's "Nouvelles Suites de Pièces de Clavecin" and 2003's complete piano works of Ravel, have received lavish critical acclaim. He graduated from the Conservatoire National Supérieur de Musique in Paris and started his international career in earnest by winning second prize at the ARD Competition in Munich. Tharaud is resident artist at the Opéra de Rouen.
View Comments