Composer and multi-instrumentalist Hutchinson '02 to perform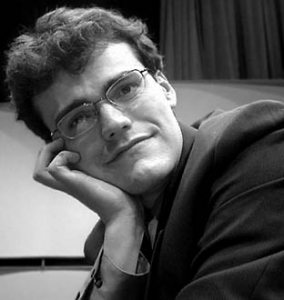 A musician with a stylistic reach and imagination of unusual scope, composer and multi-instrumentalist Simon Hutchinson '02 performs at 7:30 p.m. Thursday, March 25, in the Olin Arts Center Concert Hall at Bates College, 75 Russell St.
The performance is open to the public at no cost, but tickets are required. For more information, contact 207-786-6135 or this olinarts@bates.edu.
Hutchinson's work spans multiple genres. A seasoned traveler and a person dedicated to the power of cross-cultural communication, he creates music integrating myriad media and influences, and exploring themes of nature, humanity and global community.
Hutchinson earned a bachelor's of arts in music from Bates in 2002, a master's from the University of California, Santa Cruz, and a doctorate from the University of Oregon.
He spent several years in Japan studying a variety of traditional instruments and folk music forms. Hutchinson regularly performs on shamisen, a three-stringed lute, with Japanese, American and Korean performers. He has appeared on the Japanese national public broadcasting station, NHK, and on the 2006 folk album Tamashi no Hibiki ("Sounds of the Soul").
Also a bassist, Hutchinson has appeared on a number of albums and is currently principal bassist of the Eugene Contemporary Chamber Ensemble.
His compositions incorporate diverse conventional, electronic and traditional instruments and performance practices. His music has been performed in the U.S., Japan and Korea. Learn more.
View Comments