Projects for Peace grants to support Zambia, Afghanistan programs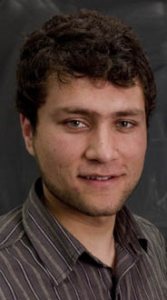 Two Bates College students have received 2010 Davis Projects for Peace awards to fund development initiatives in Zambia and Afghanistan.
Mustafa Basij-Rasikh, a sophomore from Kabul, Afghanistan, and Chomba Kaluba, senior from Mpika, Zambia, each received a $7,250 grant. The money will support Basij-Rasikh's project for empowering people disabled by land mines in Afghanistan, and Kaluba's literary and microfinance programs for development in rural Zambia.
The projects reflect the importance of economic opportunity to a stable society. As Kaluba wrote in his Projects for Peace proposal, "The dissatisfaction of one sector of a society with the unequal access to opportunity and prosperity is always cause for unrest and violence."
Their projects are among more than 100 initiatives supported by the Projects for Peace program. At the age of 103, founder and philanthropist Kathryn W. Davis funds the program to encourage college students to undertake innovative, meaningful projects that promote peace in the world.
Beginning with the Soviet invasion in 1979, unceasing conflict has made Afghanistan one of the world's most heavily mined countries. An average of 40 Afghans are killed or maimed by mine explosions each month. Basij-Rasikh, who has witnessed firsthand the devastation wrought by mines, designed a project to help reintegrate mine victims into society.
---
See a video about Chomba Kaluba '10.http://www.vimeo.com/10286053
---
Victims are often among the most marginalized because of pre-existing poverty, gender discrimination and the social stigma attached to disabilities. Often they were the sole breadwinners for their families before they were injured. "I feel I must help them," says Basij-Rasikh.
He will supply tricycles and carts to mine victims, train these individuals to repair and use them, and provide small grants to begin a business. The tricycles will promote independence by affording mobility, and the carts will serve as stands for selling goods such as vegetables, fruit or clothing.
Basij-Rasikh will undertake the work in the provinces of Kabul, Herat, Parwan, Bulkh and Nangarhar. These provinces are home to many of Afghanistan's disabled people and have many paved roads, which provide easier transportation and a better market for the disabled to sell their goods.
The Davis grant will allow Basij-Rasikh to purchase parts for tricycles and carts, hire assistants and give startup financing for mine victims. As he puts it, "With a little money and a tricycle, a disabled person can start an independent and prosperous life."
Kaluba also feels a strong personal connection to his project. He seeks to promote peace in rural communities in Zambia through empowerment programs. There are two parts to his project: a microfinancing initiative using livestock and a literacy initiative.
The microfinance element focuses on goats as an income source. Goat meat is popular in Zambia and goats are a good source of income and protein. Goats will be provided to impoverished households and volunteers will teach recipients how to make best use of them. Participants will be required to give the first offspring of their goats to another family in need, form registered associations and establish banking systems.
With formal education out of reach for many Zambians, the second part focuses on improving literacy through the Kachlite Foundation, which Kaluba founded and directs. Volunteers will facilitate study circles with members of the community. Materials for this project will be donated by the Zambian Ministry of Education in Mpika, along with book donations from Maine. The rest of the supplies will be funded by the Davis grant.
This is not Kaluba's first initiative in these fields. In 2008 he shared a Projects for Peace grant with two other Bates students to create a community garden in Tanzania that offers street children a survival alternative to a pervasive sex-for-food trade. In 2009 Kaluba received a Bates College Philips Fellowship grant supporting a project in Guatemala that promoted the making of salable art to fight poverty.
Bates students have won a Project for Peace award every year since the program's inception, in 2007. Learn more.
View Comments