Ask Me Another: Myron Beasley recalls a 'moment of possibility' in Port-au-Prince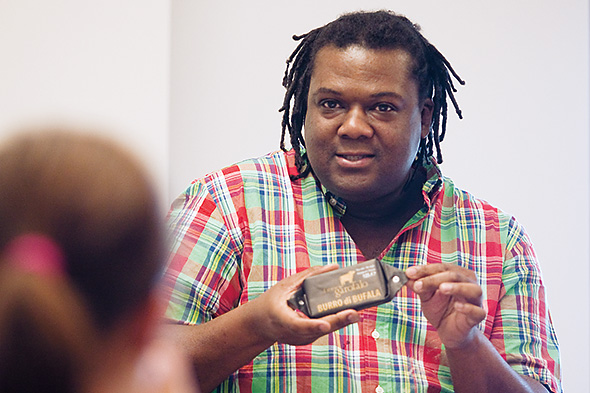 In December 2009, faculty member Myron Beasley was in Port-au-Prince to co-curate the first Ghetto Biennale.
The event brought 35 international artists to the bustling Grand Rue, a cluttered, cramped, yet dizzyingly creative ghetto space, where sculptors use the junk around them — from oil barrels to circuit boards — to create wild, whimsical, and vodou-influenced art. Like the rest of Port-au-Prince, the earthquake mostly destroyed the Grand Rue ghetto, leaving Beasley and others to recall December's "moment of possibility."
Beasley is an assistant professor of African American studies and American cultural studies.
How did you learn about the Grand Rue artists?
Several years ago, I was doing fieldwork on the topic of women who cook on the streets of Jacmel, south of Port-au-Prince. I kept hearing people refer to "the Grand Rue." I finally visited the community, and it was amazing. I've been working with them ever since. I met Andre Eugène, considered the leader of the artists, and I brought him here to Bates as a learning associate in 2007.
Why did it take so long for the artists to become known outside Haiti?
People around the world knew about the Grand Rue artists, and people talked about the artists. Prominent collectors have their works — I think even the Clintons have pieces. But nothing was ever really written about them. Even in the art world, exclusionary practices still exist.
How was curating the Ghetto Biennale different from a typical show?
In a traditional biennale, artists send works to be presented. For the Ghetto Biennale, we asked artists to come and create artwork alongside the Grand Rue community. So when reviewing artists' proposals, we had to ask ourselves, "Are they really getting this?" Some didn't. One gentleman wanted to build a sculpture of an ear.
An ear wouldn't work?
It was a fine proposal, but we were looking for a more critical stance. We wanted artists who understood the politics of Haiti, the politics of being able to do a piece in the middle of a junkyard, essentially to engage in a dialogue about globalism and international politics of the art world.
Like the politics of creating art from stuff that's thrown away by the rest of the West?

Exactly. One visiting artist, Carole Frances Lung, is a textile artist and activist from Los Angeles. She calls herself "Frau Fiber." She worked with neighborhood tailors to refashion "Pepe," the term for used clothing that floods into Haiti. They then sold the items back to U.S. boutiques as sort of refashioned couture. So it's not art for art's sake. It's functional and sustainable.
Did you come away from the Biennale changed?

It was a beautiful moment of possibility. There was a glow. The U.S. State Department gave us funding, and the cultural attaché attended the event. The Haitian minister of culture came. These were people who would never come to this neighborhood. They saw the art, and you heard them say, "My goodness, I had no idea." And it was happening right under their noses.
After the earthquake, you told the Sun Journal: "I have some information from Twitter but I haven't heard any voices." What have you now heard?

I hear from friends every day now. The day after I spoke with the paper, one of my friends in Jacmel called. He said, "I'm just calling to say that I'm OK." That overwhelmed me. I see them when I'm there, but I don't think I had acknowledged this level of intimacy, that they would just call to say, "I am alive."
On Martin Luther King Jr. Day at Bates, a collection was taken, and students with Haitian relatives spoke at the gatherings. What was your take on that?

I was impressed that students stepped up and said, "This is my country." It helped Bates to acknowledge that we have diasporas on our campus.
In 2008, your Short Term students presented a "performative meal" at Museum L-A in the Bates Mill complex. The content was based on fieldwork interviewing local citizens about food. What gave you that idea?

I mirrored the course on the 1930s WPA project "What America Eats," where writers like Eudora Welty, Zora Neale Hurston, and Richard Wright were dispatched across the U.S. to ascertain what America was eating.
The students learned about hunger, poverty, and food insecurity in Androscoggin County. And they engaged with people. A student rushed into my office and told me about her first interview, with a Dining Services worker. The woman had brought a receipt from a grocery store dated from 1930, and she told stories about her family. The student ended by saying, "And we see her every single day." I said, "Exactly. Now you can really engage with her."
Your work has connections to food culture, death and loss rituals, vodou, the African diaspora. And more. As an academic, who is your model?

I've been profoundly influenced by the work of Zora Neale Hurston. She was a writer and ethnographer who dared to present her research work in a multitude of ways, from the traditional academic monograph to plays and novels. She was able to make connections with Haiti and New Orleans, and New Orleans with Africa. She was constantly open to new ways of seeing and doing.
This is why I love Bates. I automatically make connections rather than distinctions. That's Bates.
View Comments