Bates student, anthropology professor honored for civic engagement
A consortium of Maine schools has honored a Bates College student from Virginia and a Bates anthropology professor for their commitment to civic engagement.
The Maine Campus Compact, a statewide coalition of 18 colleges and universities, honored the pair in an April 7 ceremony at the Maine State House.
Sarah Davis, a senior from Great Falls, Va., was one of four students at Maine schools to receive the MCC's Heart and Soul Award. During her time at Bates, she has led or taken part in programs that help integrate new immigrants and refugees into the Lewiston-Auburn community.
Elizabeth Eames, associate professor of anthropology, was one of three faculty members teaching in Maine to be honored with the Donald Harward Award for Faculty Service-Learning Excellence. The award salutes faculty who integrate community or public service into the curriculum and who work to institutionalize service-learning.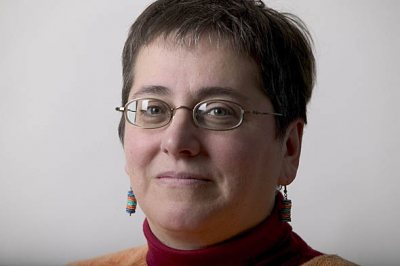 Among other endeavors, Eames has initiated research projects designed to lower the barriers that keep new immigrants from full participation in the local economy. For example, she led students to study ways that local banks can better serve Muslims, who are bound by their religion not to pay or benefit from interest payments.
Tapping the fields of sociology, anthropology and politics, Davis designed her own major at Bates, exploring how difference and inequality affect the advancement of social justice.
She espouses a deep interest "in connecting people who might initially see themselves as very different and allowing them to recognize that they're not actually so different," she explains, "and to realize that they can still build relationships and conduct really incredible initiatives."
Davis was a coordinator for the New American Sustainable Agriculture Project in 2008, and is now president of the Bates Immigrant Rights Advocates, a student group.
Her own project, the Refugee Volunteer Program, works through the Lewiston/Auburn Time Bank to enable Bates students and immigrants, many of them from Somalia, to exchange services on an hour-per-hour basis. For instance, Bates students might help immigrants with English-language needs or homework. The immigrants, in return, offer cultural programs at Bates.
In the past two years Davis has recruited 33 students and 12 refugee families to the Time Bank, and matched them all with cross-cultural volunteer partners for service exchange.
"Sarah embraces all the qualities we look for in Heart and Soul Award recipients," says Liz McCabe Park, executive director of Maine Campus Compact. The other recipients of the award are Rachel O'Brien of Unity College, Elaine Tsai of Bowdoin College and Christina Young of Southern Maine Community College.
What appeals to Davis about community involvement is the wealth of ideas and real-world perspectives that a diverse group of people can bring to an issue. "There's tons of knowledge and wisdom that you can really only discover from actual hands-on experience and engaging with people," she says.
Eames has been a robust and imaginative advocate for service-learning at Bates. In 2008, students in her course "Production and Reproduction" produced a widely distributed study that expanded and augmented a Maine Department of Labor report on Somali employment. In the 2009, the course worked with Androscoggin Bank and Somali immigrants to explore the requisites of Islamic banking practices.
Eames' students have presented their results in such formal settings as bank meeting rooms and the Androscoggin County Chamber of Commerce. "What I love," says Eames, "is that, at such moments, my theoretical and geographically remote readings on alternate moral philosophies spring to life!"
Maine Campus Compact aims to lead the way in reinvigorating the public purposes and civic mission of higher education. Its participating institutions seek to transform their campuses so as to develop better-informed and proactive citizens, stronger communities and a more just democratic society.
The Donald Harward Award for Faculty Service-Learning Excellence recognizes faculty who integrate community or public service into the curriculum and who work to institutionalize service-learning. The award is named for Bates President Emeritus Donald W. Harward, a valued founder of Maine Campus Compact and former board member of national and Maine Campus Compacts.
This year's other Harward recipients are Craig McKewen of Bowdoin College and Lorrayne Carroll of the University of Southern Maine.
View Comments