Bates College chemistry major wins top award at international conference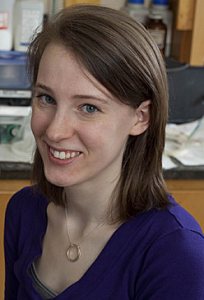 Marilla Pender-Cudlip '10, a recent Bates College graduate and a chemistry major from Torrington, Conn., was honored with a top prize and 100 euros in prize money for her research poster at the 10th European Biological Inorganic Chemistry Conference, held June 22-26 in Thessaloniki, Greece.
The EUROBIC conference represents the best work in the field of bioinorganic chemistry, the study of metal ions in biological systems. Out of 297 posters at the conference, Pender-Cudlip's and two others shared the top prize.
She stood out amidst an accomplished group. Most of the presenters were graduate students presenting doctoral work or postdoctoral associates and professors presenting material pending publication in peer-reviewed journals.
Pender-Cudlip, who graduated in May, attended the conference with chemistry professor Rachel Narehood Austin. "You could think about the award as an analogy to a young musician winning a music competition," says Austin. "It signals that this is a person with the talent and training to rise to the top in a very competitive field."
Pender-Cudlip's poster exhibited research from her senior thesis, which involves AlkB, one of a class of chemicals called metalloenzymes, or enzymes that contain a bound metal ion in their structures. The research explores the reaction mechanism of AlkB as it oxidizes hydrocarbons called alkanes.
The enzyme is thought to be a prime catalyst employed by naturally occurring bacteria that feed on hydrocarbons — potentially linking the research to events like the BP oil spill in the Gulf of Mexico. "The importance of this research lies in understanding as much about AlkB as possible," says Pender-Cudlip.
The research is part of an extensive project that she has been working on with Austin for the past three summers at Bates. "It's been nice working on the same project for so long," says Pender-Cudlip, because it provided a consistent backdrop to her learning during the academic year.
"My understanding of chemistry broadened by taking more classes, while my lab experience grew because I spent every summer at Bates," she says.
Pender-Cudlip is no stranger to academic honors. During her time at Bates, her awards included the prestigious Barry M. Goldwater and Beckman scholarships, which support selected students in the sciences.
While Pender-Cudlip was a bit surprised by the EUROBIC honor, she felt confident presenting her research. "I gained practice from the Mount David Summit" — a showcase of academic achievement at Bates — "and the chemistry seminars that all majors present to the department."
View Comments