Global Lens Film series continues with Becloud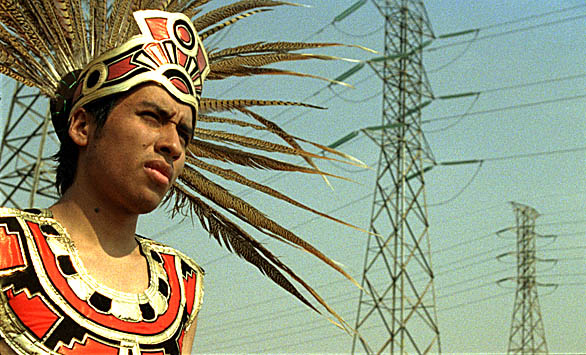 Readers: Please note that the schedule and location for Global Lens film screenings have changed: The Saturday screenings have been moved to Mondays at 6 p.m., and the new location for all screenings is the Ronj, the student-run coffeehouse at 32 Frye St.
The Global Lens series of films from around the world continues at Bates with Becloud by Mexican director Alejandro Gerber Bicecci, showing at 8 p.m. Friday, Sept. 24, and 6 p.m. Monday, Sept. 27, at the Ronj, Bates' student-run coffeehouse, 32 Frye St.
Hosted by the Bates College Museum of Art, the series continues on Fridays and Saturdays throughout the fall. Admission is $5. Becloud is in Spanish with English subtitles (111 min.). For more information, please contact 207-786-6135 or this olinarts@bates.edu.
Set in 1960s Mexico, Bicecci's film depicts a tangled neighborhood tale filled with an enthralling mix of history, memory and atonement, creating an unexpected parable of modern Mexico itself.
A trucker and his neighbors Felipe and Andres share a defining incident from their childhood, linking the destinies of their entire neighborhood to an infant found by the trucker and his companion in a dry lake bed years earlier.
Bicecci, a prolific producer of documentaries and short films, graduated cum laude from the Film Training Center in Mexico City and has received numerous grants and fellowships for filmmaking and screenwriting. Made in 2009, Becloud is his first feature film. His documentary Morada won the Golden Mikeldi at the Bilbao International Film Festival and is screened worldwide.
The Global Film Initiative produces the series in an effort to promote cross-cultural understanding through the medium of cinema by showing little-known, skillfully made independent films to American audiences. The initiative believes that "a powerful, authentic narrative can foster trust and respect between disparate cultures and mitigate the social and psychological impact of cultural prejudice."
Here's the remainder of the 2010 Global Lens schedule at Bates:
Gods (2008): Peruvian director Josue Mendez focuses on the soon-to-be wife of a wealthy industrialist who is eager to shed her working-class background for the opulence of her fiance's elite lifestyle, but instead finds the ironic contrasts of fate and ambition (Oct. 1 and 4).
Masquerades (2008): This heartfelt comedy starring and directed and co-written by Lyes Salem centers around a gardener in a dusty Algerian village who dreams of improving his family's fortune and marrying off his narcoleptic sister to a "real gentleman" — but she has other plans (Oct. 8 and 11).
Leo's Room (2009): Director Enrique Buchichio's film is a coming-of-age story set in the heart of Montevideo, Uruguay, about an affable but secretly troubled young man who is forced by a chance reunion with a classmate to consider the true meaning of his reclusive lifestyle (Oct. 15 and 18).
My Tehran For Sale (2009): Iranian director Granaz Moussavi depicts a terminally ill actress fighting for political asylum, and waiting to clear Australian immigration, as she recounts to an unsympathetic official her attempts to live, work and love in Tehran's thriving yet turbulent arts subculture. (Oct. 29 and Nov. 1)
Ocean of an Old Man (2008): Set in the devastating aftermath of the 2004 Indian Ocean tsunami, Indian director Rajesh Shera's feature debut portrays an elderly British schoolteacher coming to grips with his own loss as he searches for missing students on the remote Indian islands of Andaman and Nicobar. (Nov. 5 and 8).
Ordinary People (2009): Serbian director Vladimir Perisic tells the story of a young soldier who, one quiet afternoon during an unspecified conflict in the Balkans, is forced to come to a painful reconciliation with his own actions after following orders to execute civilians (Nov. 12 and 15).
The Shaft (2008): Director Zhang Chi's wise and poetic debut comprises three intertwined stories about a father, son and daughter fighting to hold onto hope and family as they face the harsh realities of life in a poor Chinese mining town. (Dec. 3 and 6).
Shirley Adams (2009): In this deeply affecting portrait of ordinary courage in present-day South Africa by director Oliver Hermanus, a single mother struggles to care for her paraplegic teenage son in a depressed district on the outskirts of Cape Town (Dec. 10 and 13).
View Comments