Daily series: Newton '11 tells of shifting sands and attitudes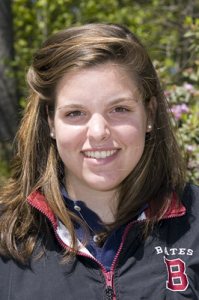 As summer enters its final week, we are sharing stories from students who had Bates-related summer experiences, each day through Sept. 21.

Name: Molly Newton '11
Major: Geology and Environmental Studies
Hometown: Easthampton, Mass.
Summer activity: Researching beach erosion at Popham Beach with geologist Mike Retelle
Molly Newton '11, cradling lengths of rebar, gazed around Popham Beach, uncertain where to plant the steel.
Seeking guidance for the crucial first step of her research project, she looked to her two professors. "And they looked at me and asked where we were going to start," Newton recalls. "They weren't kidding."
One professor was Bates geologist Mike Retelle. The other was her own father, a geology professor at Smith College and a good friend of Retelle's. And as for lengths of rebar, they were GPS survey markers for an ongoing Bates project to measure sand erosion at Popham and other beaches near the Bates–Morse Mountain Conservation Area.
"My Bates education has blasted apart the limitations I placed on myself."
Newton calls geology "the family trade," yet she arrived at Bates determined to avoid the field. "To anyone who would listen, I proclaimed that I was in no way smart enough for science, let alone intellectually capable of executing a study of my own design."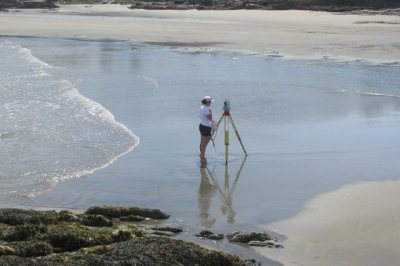 But then she took a geology course her sophomore year, then another. And on that summer 2010 morning at Popham Beach, when Newton made her own decisions about her project, she felt that she had emerged as a Bates student scholar.
"That Mike and my father did not dispute my choices gave me the confidence to jump into a full summer of research feet first, and not be afraid to make my own decisions."
Now, as a senior, she's diving into her geology thesis. The capstone project will use data accumulated from her Bates-funded summer work that, in turn, builds on Retelle's research with prior students.
"My Bates education has blasted apart the limitations I placed on myself," she says.
View Comments