Daily Series: In Armenia, Shahinyan '12 picks up where the Soviets left off
As summer turns to fall, we are sharing stories from students who had Bates-related summer experiences.
Name: Gohar Shahinyan '12
Hometown: Hamden, Conn.
Major: Environmental Studies
Summer activity: An Otis Fellowship to travel to Yerevan, Armenia, to restore a neighborhood commons, and much more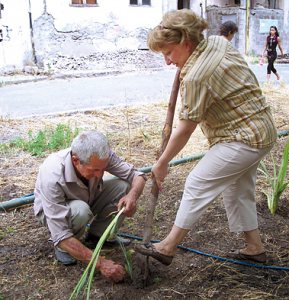 After Armenia declared its independence from the Soviet Union on Aug. 23, 1991, everything related to Soviet rule had to go.
Even the good stuff.
Gohar Shahinyan '12, Armenian born and raised in the U.S., traveled back to her homeland last summer to help bring back green space that the Reds had stewarded quite well: neighborhood commons, where townspeople and their children once gathered, socialized, and played.
"Under the Soviet Union, the commons were under careful supervision," explains Shahinyan, who was supported by an Otis Fellowship. "But the concepts of 'our neighborhood, our city, our country,' which had been amplified during the Soviet Union, disappeared after the collapse of the USSR."
"All that is common suffers."
With the end of Soviet rule,  "our"  turned to "mine," and the question of who might now own once-common properties  "consumed and engrossed" the Armenian people, who were also eager to see reminders of Soviet rule disappear — even if it meant abandoning good things, like the once well-tended commons.
Even today, Shahinyan says, the civic pulse is weak. "People only seem to be interested in 'my property, my ownership,'" she observes. "All that is common suffers." As a result, "the society feels self-helpless and is disconnected from its environment."
In a peripheral neighborhood in the capital city of Yerevan, Shahinyan enlisted townspeople to turn an empty plot of land into an area of rest and entertainment for children and adults. They planted flowers, installed benches and trash cans and created a small, safe play area for the littlest citizens.
"For change to occur, one has to work with the conditions that are in place."
It was one thing for townspeople to clean up the space and throw out the garbage; it was harder for them to shed their own social, political and economic baggage and change their understanding of their environment.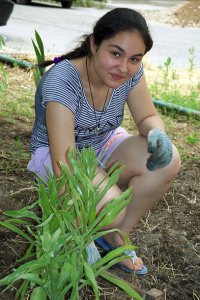 "One prevailing worry was that nothing would last in the garden," Shahinyan recalls. "People constantly warned me that people steal: 'Why would they not after all? They could have it for themselves to put it in their dachas,' their vacation homes."
Yet until recently, nothing has been stolen but a pair of boots used as flower pots — "though the boots were returned after someone realized that they could not be worn."
Shahinyan learned a lesson central to her environmental studies major: "For change to occur, one has to work with the conditions that are in place. It became vital for me to integrate myself within the community, to learn their mentality."
For example, while she initially planned to involve people from across the city in her project, she soon learned that taking that route would decrease the sense of neighborhood ownership of the commons . "Furthermore, though this was a community garden, a supervisor was vital for the longevity and sustainability of the garden."
But what happened next was new behavior.
Recently, Shahinyan heard a story.
A middle-aged woman, while leaving her apartment building, threw a wrapper on the ground and kept walking, a not-uncommon occurance. But what happened next was new behavior.
"A group of teenagers confronted her, but she kept denying her deed," Shahinyan says. "Then a man who had been looking out the balcony also began addressing her." After some back-and-forth bickering, the woman picked up her litter and threw it in one of the newly placed trash cans.
"Change can occur," Shahinyan believes. "But the actor who hopes to effect change has to integrate and assimilate within the environment and work with whatever has already been established."
View Comments