Bates releases year's second CD by pianist Glazer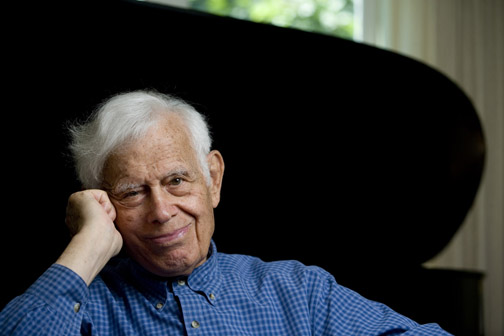 For the second time this year, Bates College has released a CD of music by pianist Frank Glazer, an internationally known musician who has been an artist in residence at Bates since 1980. Titled Schubert-Brahms-Beethoven and comprising one piece of music by each composer, the disk presents, for the first time, recordings that Glazer made in 1998.
Judith Sherman, an influential music industry figure who has twice won the Grammy for Classical Producer of the Year, engineered the recording sessions at the college's Olin Arts Center 12 years ago. The recordings weren't released at that time because of market conditions in the industry.
Sherman also produced Glazer's 2006 CD Music of a Bygone Era, released by Bridge Records.
In April 2010, Bates College released Frank Glazer: Live at the Olin Arts Center, a compilation of music from performances marking important career milestones for Glazer: a 2006 concert held 70 years to the day after his New York City debut, and a 2009 date celebrating the 60th anniversary of his first Carnegie Hall appearance.
Bates sells all three discs at $20 each, shipping included, through www.batestickets.com. However, through Dec. 23, Schubert-Brahms-Beethoven and Live at the Olin Arts Center are available at the holiday sale pricing of $15 per disc, $35 for three discs or four for $40. To take advantage of these special rates, please call 207-786-6163.
Glazer, of Topsham, is an internationally acclaimed musician known from numerous recordings, solo recitals and performances with orchestras and chamber ensembles. His latest CD includes Schubert's "Wanderer" Fantasie, Op. 15; Beethoven's Sonata in A-flat Major, Op. 110; and Brahms' Fantasien, Op. 116.
Composed in 1822, "Wanderer" comprises four movements played without a break, and develops four themes out of one motif. The Beethoven piece is the prominent piano sonata out of a group of three (Op. 109-11) that he wrote within two years.
"Both works show the composers at the height of their powers," says Glazer. "They share a strong sense of internal compositional unity, but with a tremendous difference in expression and sound. They contrast wonderfully in mood. The Schubert is overt and virtuosic, while the Beethoven is intense and compact."
The Brahms, which Glazer feels is heard too seldom in concert, has a particular personal significance for the pianist. The piece was on the program for Glazer's Carnegie Hall debut, in 1949, and was the subject of the final lesson he had with the renowned pianist Artur Schnabel in December of the previous year.
After the lesson, Schnabel remarked, "You will be successful," Glazer recalls, noting that later that same night, Schnabel had the first of his heart attacks.
"I have felt close to Brahms and Beethoven right from the start of my student days," the 95-year-old pianist says.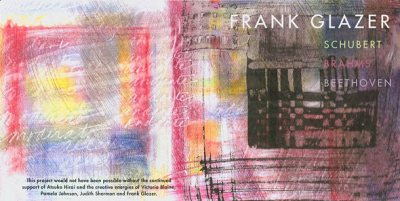 The package for "Schubert-Brahms-Beethoven" features original art by Pamela Johnson, associate professor of art and visual culture at Bates.
A vital presence on the music scene in Maine and beyond, Glazer is at home in every style of music from Bach to contemporary. He has concertized in more than 24 countries; appeared on his own television show for NBC stations; made more than 50 recordings and performed 30 world premieres.
Glazer was a founding member of the Eastman Quartet, the Cantilena Chamber Players and the New England Piano Quartette. He taught at the Eastman School of Music for 15 years before coming to Maine in 1980. With his wife, the late Ruth Glazer, he founded the long-running Saco River Festival in Cornish.
View Comments