Museum explores book art, video dialogues, great U.S. painters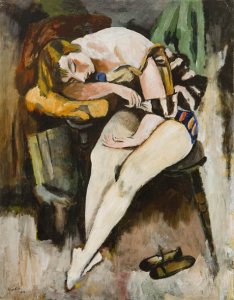 Stunning examples of the book illustrator's art, including rare Abstract Expressionist silkscreens and life-size bird prints by John James Audubon.
A video series exploring the notion of dialogue.
Paintings by Will Barnet, Marsden Hartley, John Marin, Marguerite Zorach and other acclaimed artists associated with Maine.
These are a few of the temptations the Bates College Museum of Art offers in exhibitions opening with a 6 p.m. reception on Friday, Jan. 14, and ending March 25.
The museum, located in the Olin Arts Center at Bates, 75 Russell St., is open from 10 a.m. to 5 p.m. Tuesday through Saturday. It is open to the public at no cost. For more information, please call 207-786-6158.
The shows are: Bound to Art: Illustrated Books from the Edmund S. Muskie Archives and Special Collections Library, an eclectic review of book illustrations based on volumes from Bates collections;
Dialogue, a video series, featuring artists from Amsterdam, Boston and New York;
and Selections From the Collection of the Ogunquit Museum of American Art, representing a Maine museum devoted to American art and holding a superb assortment of works by Maine-related artists.
"Each of the three exhibitions is terrific in distinct ways, from the impressive overview of the archives' holdings of illustrated books, to the important modernist works in the Ogunquit exhibition, to the profound and entertaining videos in the 'Dialogue' series," says museum director Dan Mills.
"Together, they offer a quite extraordinary array of art spanning the centuries and a wide variety of media."
Two 6 p.m. events related to the exhibitions are scheduled at the museum. On Thursday, Feb. 17: Dialogue video artist Rachel Perry Welty discusses her work.
And on Monday, March 7: Kat Stefko, director of the archives and curator of Bound to Art, leads an informal conversation about books in the exhibition.
View Comments