Bound to Art reveals rare books in Bates collections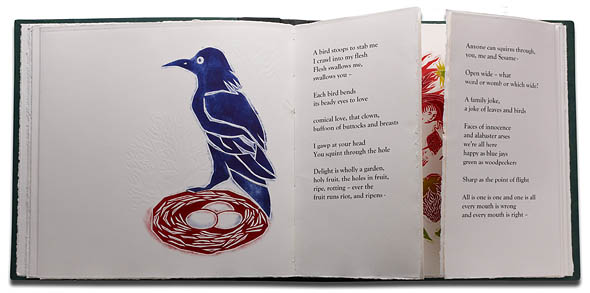 Displaying more than 40 rare books from the Muskie Archives and Special Collections Library, Bound to Art: Illustrated Books from the Edmund S. Muskie Archives and Special Collections Library is part of an 18-month celebration of the facility's 25th anniversary. The college's book collection ranges from incunabula of printing's infancy to the finely printed works of today's flourishing book arts movement.
The Bates College Museum of Art exhibition Bound to Art, the first-ever exhibit of these holdings, presents a selection of illustrated books spanning nearly 500 years. It will be accompanied by a full-color illustrated catalog, with photography and design by Will Ash of the Bates Imaging and Computing Center (catalog ordering information here).
The show opens with a 6 p.m. reception on Friday, Jan. 14, and ends March 25. In addition, Katherine Stefko, director of the archives and the curator of Bound to Art, leads an informal conversation about the exhibition at 6 p.m. Monday, March 7, at the museum.
"There's a remarkable range of history, forms of illustration and subject matter, from religion to biology and from physics to poetry," says Stefko. "There really is something for everyone.
"These books are delightful. They're just lovely."
She adds, "I realized, as I began preparing the exhibition, just how lucky Bates has been to receive several significant collections of illustrated books," holdings that go back to a collection of natural history and biology books from "Uncle Johnny" Stanton, a member of the Bates faculty from 1863 to 1906.
Other collections came from Arthur Peaslee, an 1890 Bates graduate whose donation of more than 100 books included many relating to the Italian poet Dante and his Divine Comedy; and from John Lovejoy '58, whose gift reflected his interest in contemporary books from small presses.
Authors represented in Bound to Art include poet John Ashbery, adventure novelist Edgar Rice Burroughs, Chaucer, Coleridge, Dante, Frank O' Hara, Ovid and Walt Whitman. Among the illustrators are Leonard Baskin, Gustave Doré and Marcel Duchamp. Maine artists, such as the late Martha Hall, are also represented.
One of the oldest books on display is a medical textbook from 1601 that shows the muscular structure of the larynx. "It made an incredible impact on the field of medicine," says Stefko, "but it's also regarded even today as one of the most beautiful medical textbooks ever published."
Another highlight is Audubon's Birds of America in the so-called Bien edition, named for its printer. This volume of stunning life-size prints is also called the "double elephant" edition, in reference to the paper size — about 30 by 40 inches — called by that term, which at one time was the largest that printers could accommodate.
Stefko also points to a four-volume set called The Poems, a 1960 collaboration between the New York School of poets and the second generation of Abstract Expressionist artists. Containing the only silkscreens that many of those artists ever made, the books were produced in a limited edition of 225 sets.
"To me, this is a great thing to be doing because so many people may not know that the Muskie Archives also possesses rare and fine-press books," says museum director Dan Mills. "This exhibition will get the word out."