A kaleidoscope of beliefs at the Multifaith Banquet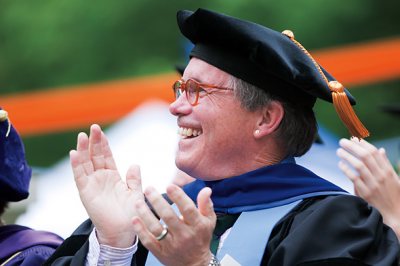 Feeling torn between two colleges on the eve of the acceptance deadline, Leena Nasser '12, of Dhahran, Saudi Arabia, turned to prayer. Using a Muslim prayer that asks for help with a choice, "I asked Allah to put a feeling in my heart that made me comfortable with one choice or the other."
Nasser told her story during the Multifaith Banquet, an annual event that gives students who hold diverse beliefs an opportunity to share heartfelt blessings and personal journeys of faith.
"The differences between the traditions…create a complex beauty."
In affirming the rightness of her college choice, "the perspectives I've gained, the people I've met, and the goals I've been inspired to pursue at Bates" have all proved the power of prayer for Nasser.
Sponsored by the Multifaith Chaplaincy, this year's banquet drew 18 speakers who ran the gamut of beliefs from Baha'i to Buddhist — including secular humanists and folks self-described as spiritual but not religious.
Enlisting speakers takes some persuasion, notes Erica Long '12, a Unitarian Universalist who organized the program and also spoke. "Religion is not something usually discussed between students" at Bates, she said. But the result is worth it.
In remarks during the event, the Rev. Bill Blaine-Wallace, Bates' multifaith chaplain, likened the resulting interplay of revelations to a kaleidoscope; and associate chaplain Emily Wright-Timko ran with the metaphor in a subsequent interview.
"The differences between the traditions, and even within the traditions," she says, "play off one another to create a complex beauty."
Held in a Benjamin Mays Center decorated with colorful tablecloths and the College's multifaith banner, the program began with short blessings that ranged from a Catholic prayer to a passage from the Quaker Book of Wisdom.
A junior from Nepal shared a Hindu story she learned from her grandmother. A woman, returning from the temple where she had prayed for the recovery of her ailing son, arrived home to find that he had died. Responding not with anger nor by challenging God's action, she went back to the temple instead and asked God to take care of her son.
"Faith never dies," the storyteller said. "If our faith dies, then there will be nothing to motivate us to live our lives." — Gabrielle Otto '11
View Comments