Campus Construction Update, March 22, 2011: College Chapel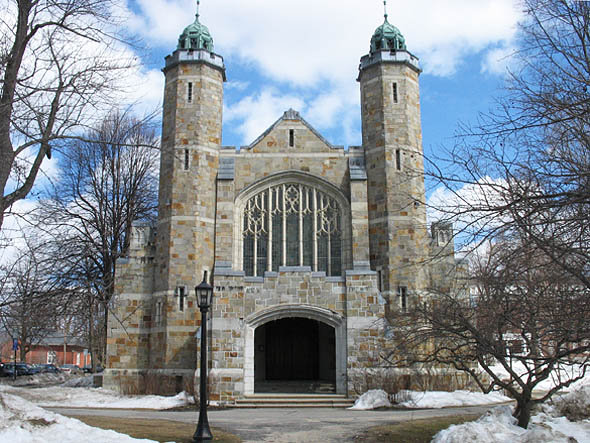 Three years shy of its 100th birthday, the Bates College Chapel will be the object of a new construction project this year — starting next week, in fact.
For the next nine months, workers will be replacing the venerable building's slate roof and tending to the turrets at each corner.
Despite the staging that will surround the building from March 28 into December, though, the Chapel will remain open for business during the repairs. Note, however, that "it could be noisy inside there," says Pam Wichroski, the college's director of capital planning and construction. Of course, construction will pause during signature College events.
"A lot of the Chapel activities take place evenings and weekends, so the construction shouldn't impact those."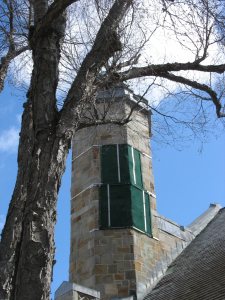 On the turrets, the copper cupolas will be removed, their metalwork repaired, and reinstalled. In addition, masons will redo the mortar joints between the Quincy granite wall stones, a chore that could involve removing and resetting stones where the mortar is too far gone. The building's walls also need such retooling, but that will come in a second, as-yet-unscheduled phase of the project.
The roofing work, meanwhile, will be comprehensive. Original to the building, the roof "has basically reached its end of life," Wichroski says. "We're starting to see water infiltration into the building," particularly in the turrets and in the choir loft, where plaster has been damaged.
"They're taking all of the old slate off, right down to the wood roofing. They'll repair any problems that they find in the wood, put new underlayment down and new slate on top of that." The copper flashing at the seams and edges will be replaced, too.
Slate is one of the most durable roof coverings, not to mention the classiest, and the lifespan of the Chapel roof is right in the ballpark, according to a National Park Service website that gives 60-125 years as a typical length of service. The site also notes that 1914, when the Chapel was finished, marked the end of the boom in slate roofing in the U.S., as less expensive materials entered the market.
The cost of slate remains an issue. When Bates reroofed Alumni Gym and the Gray Cage last year, the sheer expanse needing to be covered ruled out the idea of replacing the old slate with new. Asphalt shingles went onto the roofs instead. "It's always a tough decision," Wichroski says.
But the college remains committed to keeping it on the campus' most historic and visible buildings whenever possible. That includes the Chapel, which was modeled after the chapel of King's College at Cambridge University, and is the site of countless cherished Bates memories.
The general contractor for the project is Consigli Construction Co. of Milford, Mass., and Portland, Maine — familiar to Bates from the New Dining Commons and Alumni Walk project.
Read about the ongoing renovation of Roger Williams and Hedge halls.
View Comments