Senior Exhibition 2011 enters final days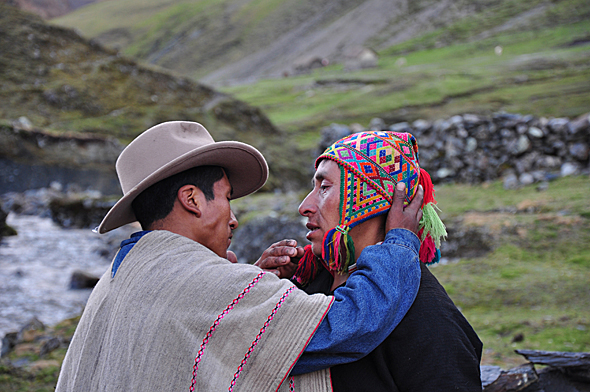 Fifteen studio art majors at Bates College show work from their yearlong thesis projects in the annual Senior Exhibition, which opens with a public reception at 6 p.m. Friday, April 8, in the Bates College Museum of Art, 75 Russell St.
The exhibition runs through May 28. Admission is free. Regular museum hours run from 10 a.m. to 5 p.m. Tuesday through Saturday. For more information, please call 207-786-6158 or visit the museum website.

Senior Exhibition artists are: Clyde Bango, Harare, Zimbabwe; Bridget Brewer, Portland, Ore.; Kirsten Gill, Jackson, N.H.; Sara Ellen Godek, Laconia, N.H.; Uriel Gonzalez, Von Ormy, Texas; Meredith Greenberg, Ridgefield, Conn.; Jenna Ligor, Denmark, Maine;
Also, Kimberly Neubert, North Haven, Conn.; Lauren Okano, Rock Springs, Wyo.; Mareika Phillips, West Hartford, Conn.; Hannah Porst, Madison, Wis.; Phoebe Reed, Brooklyn, N.Y.; Diane Saunders, Durham, N.C.; Anna Skarstad, Pleasantville, N.Y.; and Marta Solomianko, Plainview, N.Y.
Since its dedication, in 1986, the museum has maintained a special relationship with the college's department of art and visual culture, expressed in part by its support of studio art majors through the Senior Exhibition. As required by the studio art major, exhibiting students create a cohesive body of work through sustained studio practice and critical inquiry.
The yearlong process is overseen by members of the AVC faculty: during the fall semester by associate professor Pamela Johnson, and during the winter semester by senior lecturer Robert Feintuch, who also curates the exhibit and oversees its installation.
"This year's exhibition includes wire and ceramic sculpture, figurative and abstract painting, digital photography — both 'straight' and Photoshopped — collage and embroidery, a site-specific drawing and a relief sculpture made from corrugated cardboard," says Feintuch. "Artists' subjects range from childhood memories of a village in Zimbabwe to spinal processes as sculptural forms.
"All of the seniors have worked hard, and many of them have progressed in leaps and bounds in these last few weeks. I think my seniors learn an enormous amount about what is possible when you limit possibilities and bring all of your attention and focus to one thing."
View Comments