Bates anthropologist, student honored for community work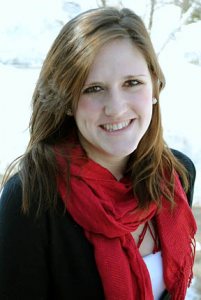 The Maine Campus Compact has honored a Bates College senior and a member of the college's anthropology faculty for their commitment to public engagement.
Visiting Instructor of Anthropology Heather Lindkvist is one of five college faculty in Maine to receive the Donald Harward Award for Faculty Service-Learning Excellence. Jessica Igoe, an economics major and education minor from Lexington, Mass., was one of four students at Maine colleges honored with the Heart and Soul Award, recognizing exemplary civic engagement.
The awards were presented April 26 in a ceremony at the Maine State House.
"Service-learning encourages students to consider not only 'Why is anthropology relevant?' but also, 'How is it relevant for addressing social problems?' " Lindkvist explains.
"Community-based research enables students to connect theory with practice, and to engage with the larger community in ways that force them to reflect on their own social identities in terms of qualities like gender, race, ethnicity, cultural background and class status," says Lindkvist, who has conducted ethnographic research with Somali refugees in Lewiston for 10 years.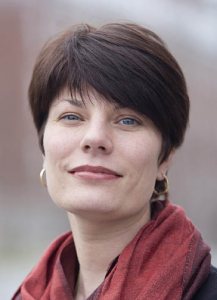 Lindkvist emphasizes the importance of strong community partnerships built on respect, trust and candor. She and her students have undertaken a wide variety of partnerships, including a lead-hazard awareness survey in Lewiston; an oral history project with former millworkers, undertaken with Museum L-A; and work with homeless people at the Trinity Jubilee Center.
Lindkvist is also Bates College's director of the New England Consortium on Assessment and Student Learning, a collaboration among several New England schools. The group is studying student learning in relation to institutional policies and practices; how students transition to college; and how students make important academic, social and personal decisions.
Her own research on this project focuses on how students negotiate difference in the classroom, in residence halls and in the larger community.
Also receiving the Harward Award were Charles Dorn, Bowdoin College; Elizabeth Jabar, Maine College of Art; Claire Sullivan, University of Maine; and Ben Towne, University of Southern Maine.
The award is named for Donald W. Harward, a founder of Maine Campus Compact and a former Bates president.
Heart and Soul recipient Igoe has volunteered at an afterschool program at Hillview, a subsidized housing community serving predominantly Somali families, since her first year at Bates. She is currently student coordinator of this program.
For the Bates students working in the program, she says, "Hillview affords the opportunity to form lasting relationships with the children. You're watching kids grow up — it's unbelievable to see how much the kids accomplish in four years."
Witnessing the emergence of gang activity at Hillview, Igoe has worked with the Hillview Boys Aspirations Program to address the problem, and undertook an independent study of at-risk youth that resulted in the creation of a leadership curriculum at McMahon Elementary School.
She also served a public policy internship with the federally funded New Americans: Child Care Choice of Parents of English Language Learners program. She helped research the deficit in school-readiness skills that often puts children who aren't native English speakers at a disadvantage as they begin kindergarten.
Igoe proposed an approach to the issue that would inform parents about the value of school readiness, improve access to quality childcare and promote English language learning, among other steps.
Heart and Soul recipients have demonstrated innovativeness and flexibility in enhancing campus efforts to address community issues; an ability to lead, inspire and engage other students and members of the institution; and success in integrating their work into the institution's structure for the long term.
The other 2011 Heart and Soul winners are Samantha Collins, Bowdoin College; Cole Leighton, University of Southern Maine; and Stephanie Wilson, University of Maine at Machias.
Maine Campus Compact is a coalition of 18 member campuses whose purpose is to catalyze and lead a movement to reinvigorate the public purposes and civic mission of higher education. Learn more.
View Comments