Reunion Weekend tribute to the late Rev. Peter J. Gomes '65 set for June 11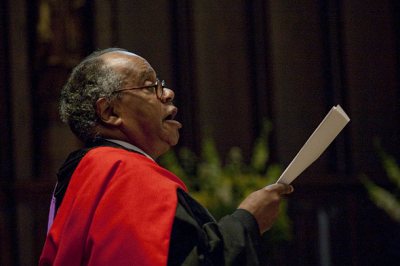 During this year's alumni Reunion Weekend, Bates College will pay tribute to the late Rev. Professor Peter J. Gomes '65, D.D. '96, with a offering of memories and tributes by friends and colleagues at 1 p.m. Saturday, June 11, 2011, in the Olin Arts Center Concert Hall, 75 Russell Street. The event is open to the public.
Gomes, the Plummer Professor of Christian Morals and Pusey Minister in the Memorial Church at Harvard University, died on Feb. 28, 2011, of complications from a stroke he suffered in December. He was 68 years old.
"The Rev. Gomes was, among many things, a remarkable preacher, dedicated scholar and accomplished author," President Elaine Tuttle Hansen said in her announcement to the Bates community.
A best-selling author and long considered one of America's most distinguished preachers, Gomes became a prominent spiritual voice against intolerance after he announced in 1991 that he was gay.
He was simply "Gomesie" to his Bates contemporaries, and he sustained a particularly intense and loving relationship with his alma mater and with Bates people.
View Comments