Citation: Distinguished Service Award winner Gretchen Shorter Davis '61
Citation for Papaioanou Distinguished Service Award winner Gretchen Shorter Davis '61, delivered by Alumni Association president William Sweat '79:
Gretchen graduated from Bates with a B.A. in sociology, was a member of the Sociology Club and was elected to the College Key as an undergraduate.
She was a proctor at Wilson House her junior year and was elected president of the Women's Student Government. Soon after she graduated, Gretchen embarked upon a 26-plus-year career as an educator; married Bates classmate Jerry Davis; raised two children; and along the way earned her master's degree in education at Fairfield University.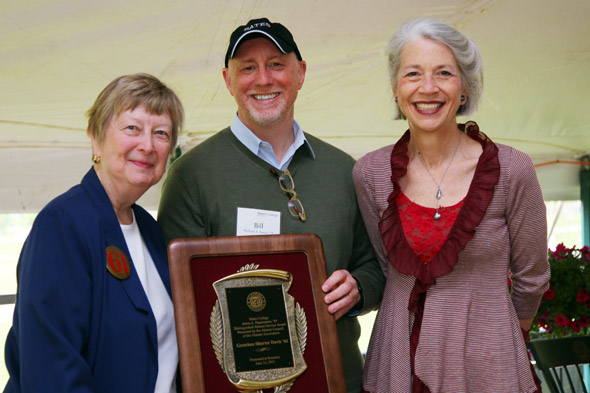 Jerry's work required that the family relocate several times, but wherever they lived, they were active with local Bates clubs and, along the way, served terms as co-presidents of the Class of' '61. Gretchen always remained in touch with her classmates and was an active volunteer for Bates. She has been the secretary for the Class of '61 since 1987; served on the Alumni Council in the 1980s; and served on numerous Reunion committees, including this year's.
Gretchen was elected to the Board of Trustees in 2003, serving on the board of the Bates-Morse Mountain Conservation Area Corp. She retired from the Bates board in 2007 but remains vice president BMMC, which has benefited tremendously from her involvement, contributing vitally important continuity and institutional memory during a period of change.
She rejoined the Alumni Council and is in her second consecutive term. An outstanding leader for her class, she is co-chair of the 50th Reunion Gift Committee with classmate Dick Watkins. She and Dick have organized and directed the fundraising effort, spending countless hours contacting classmates and encouraging their attendance and financial support for the 50th Reunion gift and Bates.
Jerry and Gretchen are active participants in the Portland area Bates Book Club and they active financial supporters of the college through scholarships, the Phillips Society and the Mount David Society.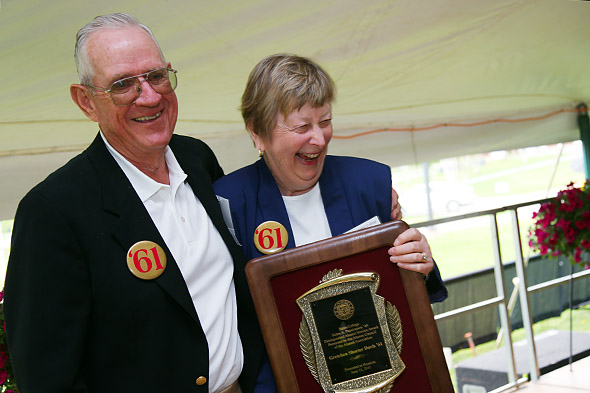 Gretchen, in the 50 years since you graduated you have given Bates generous amounts of your time, talent and energy. Your record of service to the college is truly extraordinary, and we are honored to present to you the 2011 Helen A. Papaioanou '49 Distinguished Alumni Service Award, in recognition of all of your great work on behalf of Bates.
View Comments