Dr. Howard Scher '72 at fore of two major prostate cancer findings
Leading cancer researcher Howard Scher '72 recently presented two major findings from a Phase III study of the prostate cancer drug Zytiga.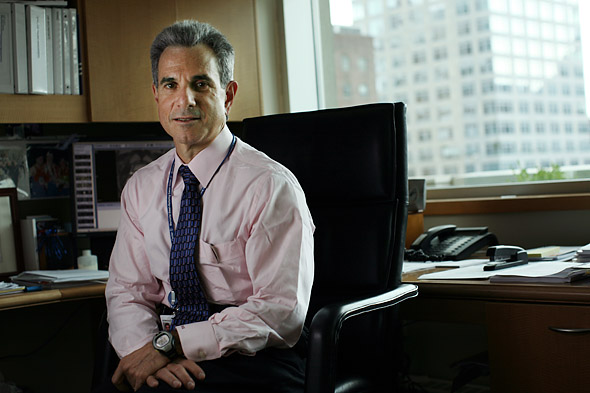 The first finding is that Zytiga works, improving survival in men with advanced prostate cancer. The study's second finding might prove to be a boon to future cancer researchers, providing a better way to measure the effectiveness of any given cancer treatment.
Scher is a co-lead investigator of the study, "Abiraterone and Increased Survival in Metastatic Prostate Cancer," published in The New England Journal of Medicine. He explained the study's findings at the 2011 annual meeting of the American Society of Clinical Oncology in Chicago, June 4-8.
Developed by Johnson & Johnson, Zytiga targets a protein that plays an important role in the testosterone production, which stimulates growth of cancer cells.
In the study, the median overall survival of patient on Zytiga rose to 4.6 months, compared to the previously reported benefit of 3.9 months. The measurement came after 20.2 months on treatment, showing that patients on the drug lived for 15.8 months compared to 11.2 months on a placebo.
The study's second major finding, part of a formal collaboration with the FDA, is that the number of tumor cancer cells that have entered the blood stream directly affects the survival rate of patients suffering from advanced stages of prostate cancer.
A Dow Jones Newswire story says that "measuring such cells could effect the development of future medicines because it may be used instead of measuring overall patient survival in a clinical trial, making such studies shorter, smaller and cheaper."
A Reuters story explains that findings like these "are part of the search for biological signals known as biomarkers that can predict which patients are the best match for drugs or give an early indication that treatments are working."
Scher said during his presention of the study at the ASCO conference that "one of the problems preventing progress in the fight against cancer is identification of reliable early indicators that may signal whether a treatment can prolong the life of a patient."
The drug received Food and Drug Administration approval in April.
View Comments