Services for David Aschauer, revered researcher and colleague, on Sept. 17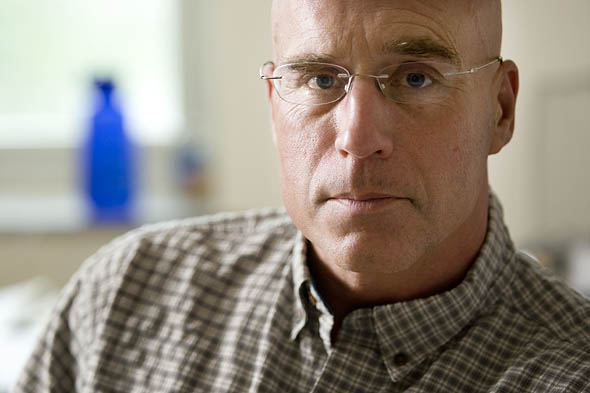 David Aschauer, a Bates economics professor known nationally for research illustrating the economic stimulus provided by government spending on public infrastructure, died Monday, Aug. 22.

Aschauer, the Elmer W. Campbell Professor of Economics at Bates since 1990, died while swimming in a triathlon off the coast of Cape Elizabeth, Maine. He was 58 years old.
---
Funeral and celebration of David Aschauer's life: 11 a.m. Saturday, Sept. 17, at the St. John the Baptist Church, 39 Pleasant St., Brunswick. At his family's request, Bates College will join the family in hosting a reception at the Edmund S. Muskie Archives, 70 Campus Ave., following the funeral.
Click here for directions (via Google Maps) to Muskie Archives, 70 Campus Ave. in Lewiston, Maine.
---
"As a researcher and a colleague, David was revered at Bates and throughout his profession. He will be sorely missed," says Pam Baker, the college's dean of the faculty.
In 1988, as a senior economist at the Federal Reserve Bank in Chicago, Aschauer made a claim that, as The Atlantic Monthly would later say, "set the economics profession on its ear." Aschauer conducted research indicating that government spending on infrastructure — roads, bridges, airports — could improve economic productivity.
As infrastructure spending increased during the 1950s and 1960s, so did productivity; as public investment ebbed into the 1980s, so again did productivity.
Writing for The Atlantic, Jonathan Rauch used Aschauer's research as the centerpiece for his article "Taking Stock," a widely noted assessment of federal spending priorities that appeared in the January-February 2003 issue.
That same year, Aschauer was named the single most-cited full professor of economics at a U.S. liberal arts college in the annual study Economic Scholarship at Elite Liberal Arts Colleges: Are Other Economists Paying Attention?
At Bates, David was known as a fine teacher, scholar, adviser and colleague. His teaching and research interests centered on macroeconomics, financial markets and economic growth. His recent research looked at the relationship between fiscal and monetary policy in the United States, as well as relationships between real interest rates and real exchange rates in an open-economy setting.
In addition, he investigated transitional macroeconomics, with a focus on Russia and Ukraine.
He graduated in 1975 from the University of Kansas and received his doctorate in 1983 from the University of Rochester. In the 1980s, in his role with the Federal Reserve Bank, Aschauer was a widely respected consultant to the World Bank, the National Academy of Sciences and the National Competitiveness Council, among others.
Prior to Bates, he taught at the University of Michigan. He has been a visiting scholar at the Japanese Ministry of Finance and the Jerome Levy Institute, and a visiting professor at the University of Chicago, Northwestern University, the University of Kiev and Bowdoin College.
View Comments