Researcher Allison Mann '08 keeps 'Mad Men' real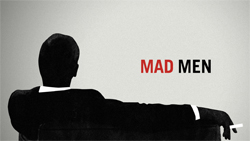 Just as you wouldn't reference an Eighties Party in a story set at Bates in the '70s, Kathryn Allison Mann '08 doesn't let Mad Men make anachronistic or other historical flubs in her job as head researcher for the AMC series.
In its recent profile of Mann, the Los Angeles Times notes that she's responsible for "upholding the period drama's well-earned reputation for authenticity and for mining the tumultuous history of the 1960s for potential fodder for series creator Matthew Weiner and his writing team."
Mann tells writer Meredith Blake that her work is "relentlessly interesting."
Mann has been research head for three seasons of the show, which concluded its sixth year on June 23.
Mann, whose major contribution to the creative team is a timeline of noteworthy events in news, politics and culture, goes about her work this ways, says Blake:
"Assisted by a handful of interns, Mann begins by methodically combing the front page of The New York Times each day of the year being depicted. Back issues of Life, The New Yorker, New York Magazine and smaller regional newspapers are other rich fonts of material."
The books that Mann consults have included Nixonland: The Rise of a President and the Fracturing of America; The Ungovernable City: John Lindsay and His Struggle to Save New York; and The Mirror Makers: A History of American Advertising and Its Creators.
Mann, who earned honors in English and philosophy, wrote her Bates honors thesis on film theory, specifically disputing the notion that a single and unified theory of film is possible.
Rather, she argued (looking at the films of Ingmar Bergman), each and every film is capable of answering philosophical questions about film in different ways.
View Comments